Finding Guide to the Simón Silva Papers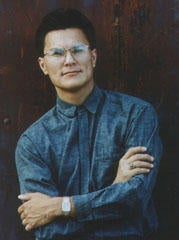 In October, 1996, Simón Silva, a well known Latino artist, designated the California Ethnic and Multicultural Archives as the permanent repository for his personal papers, including artwork and professional files.
Simón Silva was born in 1961 in Mexicali, Mexico. The next year, his family emigrated to the United States and settled in Holtville, an agricultural town in California's Imperial Valley. One of eleven children, Silva spent much of his young life as a migrant farm worker. This experience, says Silva, "instilled in me the value of an education," as well as inspiring much of his artwork.
Silva attended Imperial Valley College, receiving an A.A. degree in Art, and the Art Center College of Design in Pasadena, California, where he received his BFA in Illustration.
In 1992, Simón Silva's work was chosen to represent the United States in the Latino/Hispanic Heritage Month Art Exhibit at the Los Angeles City Hall. In 1993 he had a one man exhibition at UCLA as part of the Raza Art Series. Also that year, Silva was commissioned to do a portrait for the cover of Time Magazine. Internationally, one of his paintings, along with those of several other artists, will be on permanent display in Petropavlovsk, Russia, as a part of an American-Russian art exchange.
Silva has also done work for the Bilingual Foundation for the Arts, the Association of Mexican American Educators, the Migrant Student Worker Program and the Mexican American Legal Defense and Education Fund. He has lectured at many universities, high schools and grade schools about the importance of education and pride in one's self and culture.