Guide to the Victor Ochoa Papers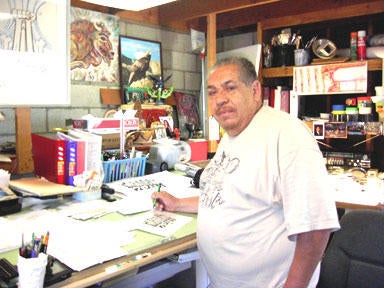 Victor Ochoa is a widely recognized Chicano painter/muralist long considered to be one of the pioneers of San Diego's Chicano art movement. He is a co-founder of the Centro Cultural de la Raza in Balboa Park, a multidisciplinary community-based arts center devoted to producing and preserving Indian, Mexican, and Chicano art and culture.
He served as its director from 1970-73, and from 1988-90. Until recently, Ochoa had been a long time artist-in-residence there. Ochoa was a co-initiator of the Chicano Park community murals, an internationally acclaimed public art project. He was also co-founder of the "Border Art Workshop/Taller de Arte Fronterizo arts collective (1984-93).
Born in Los Angeles, in 1948, Ochoa lives and works on both sides of the San Diego/Tijuana border. He received a B.A. in Fine Arts in 1974, from San Diego State University. From 1988 to the present he has been a professor at Grossmont College, teaching "Mexican-Chicano Art and History", and he has also taught "Chicano Art in the Border Region" at the University of California, San Diego (1995-96).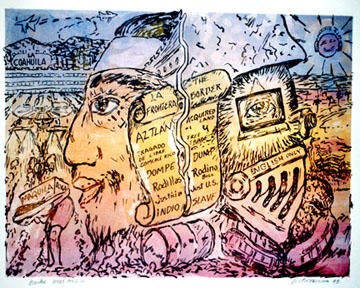 Ochoa has exhibited his paintings and graphic prints widely and is works have been included in major traveling exhibitions, such as Chicanarte (1975), Les Demons des Anges in Lyon, France (1990), Chicano Art: Resistance and Affirmation (1990-93), and Just Another Poster? Chicano Graphic Arts in California (2000-2003). Ochoa also has created set designs for dramatic productions, such as Handful of Dust (1991). He is credited with painting over 100 murals. He is the artist of Geronimo a mural depicting the kneeling Apache warrior on the outside of the circular Centro Cultural de la Raza building. The mural is a metaphor that symbolizes from an indigenous perspective the Centro Cultural de la Raza's concern over social disparities and inequities throughout our history. In his 1987 silkscreen print Border Bingo/Lotería Fronteriza Ochoa adopted the use of stereotypical caricatures and icons to call attention to the socio-political and economic tensions and disparities of the U.S./Mexico border region.
He incorporates in his visual satire the traditional Mexican lotería card format and draws his inspiration from the politically charged performance art work of the Border Art Workshop/Taller de Arte Fronterizo, a program that addressed the social tensions caused by the U.S.-Mexico border. According to Ochoa "art is part of the solution of issues in society and Chicano art has been the expression of our people's struggle."
The Victor Ochoa Papers was established in 1997 and consists of 57 linear feet of art files, exhibition files, ephemera, posters and prints and other printed matter, photographs and slides, correspondence files, and recordings.