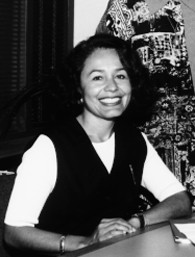 Guide to the National Network of Hispanic Women archives
The California Ethnic and Multicultural Archives has acquired the archives of the National Network of Hispanic Women (NNHW), a national resource center that has linked professional women with one another providing role models for young Hispanics.
"The NNHW collection is important because it records the accomplishments of Chicanas in the areas of education, politics and the arts and provides a substantial addition to the Chicano/Latino component of CEMA," said Sal Güereña, director of CEMA.
According to Sylvia Castillo, founder of NNHW and a UCSB alumnus, the intent of the organization is for the material to be used to encourage and promote the continuation of gender and ethnic studies, feminist research and debate to further the understanding of the socio-political experiences of Hispanic women in American society.
"For the first generation of college-educated Hispanic women there were no role models or mentors that could help them fill the gap between the experiences of their blue-collar parents and the career choices that a university education provided," said Castillo, who taught the first course on Chicanas at UCSB in 1973. Previously, primary sources documenting Hispanic women have been unpublished dissertations and government documents.
"Because of the opportunities UCSB had given me to develop myself, I feel that alumni have the responsibility to contribute back to the university," added Castillo. "The collection will provide research initiatives and ensure that the threads of our experiences are not lost."
Formalized in 1980, the NNHW addresses issues such as developing a national leadership campaign to create a national Federation of Hispanic Women Leaders & Presidents of Volunteer Organizations. The archives that were acquired in 1993 consist of twenty linear feet of organizational records, correspondence files, photographs, publications, reports, and ephemera.