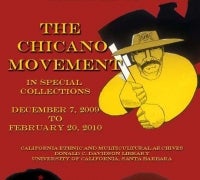 Mon, 12/07/2009 - 8:00am

to

Sat, 02/20/2010 - 5:00pm
Exhibition
Location:
Special Research Collections
Exhibit on The Chicano Movement
 ¡Movimiento! Exhibit on The Chicano Movement
This winter's exhibition centers on the movement for social justice and equity that was actually another stage in the continuum of the Mexican American Civil Rights Movement that began in the 1940s.  The displays are organized thematically and draw from a variety of sources from collections in CEMA. The visuals are both powerful and reflective, capturing the struggles for farm workers rights, and opposition to the war in Vietnam. They address the rights of Chicanas, and convey the connections made between the coalitions of ethnic groups that formed to propel positive social change. The exhibit includes the iconic work of Cesar Chavez and the United Farm Workers. It includes the seminal protests such as the La Marcha de la Reconquista from Calexico to Sacramento in 1971 that decried state funding cuts and demanded equal opportunity. The Chicano Moratorium in East Los Angeles on August 29, 1970 is represented here, as are martyrs that were embraced by the Movement including the revolutionary Che Guevara and the Chicano journalist Ruben Salazar. Also highlighted are Catolicos por la Raza that struggled to re-align the spiritual focus of the church to address the disenfranchisement of the Chicano community. La Comision Femenil Mexicana Nacional, represented in its own display case, provided political and economic empowerment to Chicanas whose needs were not being addressed by the Chicano Movement nor the Women's Movement.