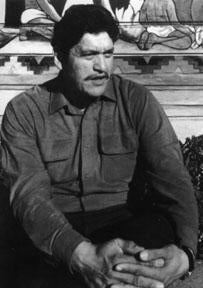 Guide to the Ralph Maradiaga collection
Born in San Francisco on October 27, 1934 and died on July 19, 1985.
Ralph Maradiaga has been described as an unassuming man who had a vision for the development of art for Chicanos in the United States and in international circles. He had a deep commitment to inspire and organize artists, community people and children toward expression and recognition of Chicano art and culture. This quest became a reality in the late 1960's when he co-founded LA Galeria de la Raza, a non-profit community arts organization in the Latino Mission District of San Francisco.
He is considered a pioneer for Chicano art, given that he made it possible for other groups of Chicano artists to get started in their careers as artists, providing a forum and a physical place for these artists to present their works. This was a significant role for him since mainstream art galleries did not consider Chicano art as a legitimate form of expression. He helped set standards and guidelines both in the installation and in the quality of work to be presented in Chicano exhibits.
Maradiaga was known to have a great artistic sensitivity and an even greater creative curiosity, qualities which drew him away from early employment with an engineering business firm, and later, from an insurance agency. The field of applied business did not seem to fulfill him. The artistic world captured his attention and thereafter, he focused developing his aesthetic inclinations and interests as well as on completing his academic degrees.
He earned a B.A. degree in printmaking from San Francisco State University in 1971. He had two M.A. degrees: one, in printmaking also from San Francisco State University, in 1975, and the other in documentary film-making from Stanford University the same year. There were many facets to Maradiaga's knowledge and achievements. Besides being an artist, he was also a teacher, a filmmaker, and animator, a photographer, and a curator for many of the exhibits shown at La Galeria. He added to his diverse roles by serving as Administrative Director for La Galeria de la Raza and provided a guiding hand to budding artists while a consultant to the participants in the Artists in Residence Program at La Galeria. His contributions included developing logos and catalog designs for various local businesses and community groups.
He traveled widely in the United States and abroad. One of his trips included a visit to Russia in 1984. Always the inveterate photographer, he recorded many of these experiences on film.
He showed an intense interest in, and a great awareness of, local issues as well as world events affecting human beings as a whole but in particular Chicanos. Although no specific mentors have been found, he is believed to have been influenced by the indigenous cultural roots of Mexico which were such important symbols in the early days of the 1960's Chicano Movement. He worked closely with Rupert Garcia, another important Chicano artist as well as with Rene Yanez who was his close friend, mutual confidante, fellow artist and co-founder of La Galeria de la Raza.
As an artist, he crossed many boundaries and gained, as well as applied, many skills to his works. When he began as a silkscreen artist, he did not have the equipment to facilitate his work so, undauntingly, he continued creating and producing his posters under the most rustic conditions, works that captured the history of his community as well as his own spirit.
It wasn't until 1984, when he went to Self-Help Graphics in Los Angeles, to work with their master screenprinter, that he had access to an advance printmaking workshop. The experience and knowledge that he gained there enabled him to continue developing and exploring his creative potential. An example of this is depicted in his silkscreen work titled, "Lost Children." Maradiaga devoted much time and energy in its planning and execution. The print held sentimental value for him since it manifested a sense of loss for the changing nature of the neighborhood where he grew up.
He co-exhibited the first Latino art show in San Francisco's Casa Hispana in 1970. Since then, his prints have hung in the San Francisco Museum of Modern Art, in Washington D.C., in San Juan, Puerto Rico and at various galleries in Mexico City. His work is also represented in the Museum of Modern Art's permanent collection in New York.
As an artist and as a teacher he worked with graphic design, photography, silkscreening, printmaking and filmmaking. The latter included and educational film called " A Measure of Time" which was narrated by Luis Valdez, playwright and founder of El Teatro Campesino.
The context of Ralph Maradiaga's work can best be understood in the following statement which he made on the occasion of his participation in the 1985 exhibition "Personal Reflection," the year that he died:
"The images I use in my work are a reflection of our culture, its people and its tradition. As artists we must all share customs, lifestyles and imagery with one another. It is only through artistic, social and political ideologies that we ascertain and retain a place in history and document it for our children."