Guide to the Anita Mackey Papers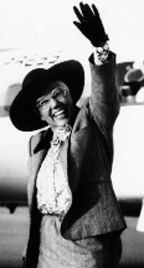 Anita Johnson Mackey is a Santa Barbara community leader and nationally recognized social service worker. As a licensed clinical social worker, she worked for the Veteran's Administration for thirty years in three cities: Chicago, as the first African American supervisor in social service; Los Angeles as the first African American supervisor there; and Santa Barbara as administrator of the Social Work Service Office.
Mrs. Mackey was born in Riverside, California as one of eight children. At the age of ten she lost her mother and was raised by her father and an older sister. She received her early education in California. She earned a B.A. in speech from the University of Redlands in 1937. She earned her M.A. degree in medical social service administration from the University of Chicago in 1941. Mrs. Mackey has also taught at various colleges and universities, including teaching as a field instructor in the School of Social Welfare at UCLA, and for Atlanta University and the University of Chicago. At Santa Barbara City College, Mrs. Mackey was the first instructor of the overwhelmingly popular course "Afro-American Culture," in response to the great need at the time and due to the realization that there were few African Americans available to teach such courses.
One of Mrs. Mackey's many callings was to work with elementary children to improve their reading and comprehension skills. Her work in the mental health care stems from a strong belief that those with mental disabilities need spokespersons.
Mrs.Mackey has been active in many community and civic organizations and boards, including the Board of the Comprehensive Health Planning Association of Santa Barbara County, as a member of the Santa Barbara Citizens' Adult Educational Planing Council, and on the Board of Directors of the NAACP. She has served on the Citizen's Planning Association of Santa Barbara County, the Channel City Women's Forum, and on the Human Relations Council on Social Services. She has served on the Goleta Valley Community Hospital's Board of Trustees, and on the Board of Loma Linda University and Medical Center. She currently serves on the Santa Barbara Police Department Board of Commissioners.
Mrs. Mackey's recognitions and awards are numerous. She is listed in Who's Who of American Women; she is a former Santa Barbara Ad Club "Woman of the Year." (1976), and was honored with the Notable Woman of Santa Barbara County Award in 1982. The Anita Mackey Minority Merit Scholarship Endowment Fund was established in 1995 at the University of Chicago School of Social Services.
Anita J. Mackey's papers were deeded to the University of California, to be deposited in the California Ethnic and Multicultural Archives. Her papers are of special value to researchers interested in studying the history of the Santa Barbara community, civil rights, women, African American issues, and the Veterans Administration. Mrs. Mackey's papers consist of speeches, correspondence, and diaries covering her travels to over one hundred and two countries throughout her life.