Guide to the Linda Lucero Collection on La Raza Silkscreen Center / La Raza Graphics, 1971-1985
The Linda Lucero Collection on La Raza Silkscreen Center / La Raza Graphics was established in CEMA in 1996. It presently consists primarily of materials about La Raza Silkscreen Center / La Raza Graphics from Linda Lucero's personal holdings. Based in San Francisco's Mission District, the Center was the most prolific at producing Chicano/Latino posters. At present the collection consists of slides, posters and promotional materials.
As early as 1970, La Raza Silkscreen Center / La Raza Graphics was producing silkscreen prints by Chicano and Latino artists. The organizers and artists of what was originally called La Raza Silkscreen Center designed and printed posters in a makeshift studio in the back of La Raza Information Center.
La Raza Information Center, which was incorporated in 1968, was one of many nonprofit organizations that dotted 24th street. The "Los Siete" Defense Committee was housed in the adjacent storefront; both were near 24th and South Van Ness. The "Los Siete" Defense Committee was established to raise support for seven Mission District youth who were all falsely accused of shooting a San Francisco policeman. The La Raza Information Center began operating in the summer of 1970 in the vacant storefront next to "Los Siete." The latter was running many programs, including Centro de Salud, a free breakfast program, a community newspaper, and the main program, the "Los Siete" Defense Committee. There was a "Pinto" (ex-convict) named "Mike" who had been writing to a lot of his friends who were still in "La Pinta" (prison) and once they left prison, they would congregate at the office in search of employment and try to be helpful. Tomás Morales was the artist who was involved in silk-screening posters and the "Pintos" would help him. At that time there was a great deal of sporadic energy around making posters but there was nothing organized at that time, either around the "Pintos," or on the making of posters. Poster production actually began in 1968-1969 in the back of the offices of the "Los Siete" and then in 1970, in both the back of "Los Siete" as well as at La Raza Information Center. In 1971, Al Borvice and Harold Ortega, two members of La Raza Information Center, were delegated to organize two new programs, a "Pinto" program and a new La Raza Silkscreen Center. The two went on to organize the "Pinto" program with "Mike" along with a handful of "Pintos" and Tomás Morales.
At the same time the La Raza Silk Screen Center was organized, in April 1971 it moved into its first offices on 23rd and Guerrero streets opening its doors in its own space. Later, it moved its office a second time, to 16th Street, between Guerrero and Valencia. In 1971 Al Borvice, Oscar Melara, and Pete Gallegos officially founded La Raza Silkscreen Center. During these early years, Eileen Starr was part of the team, and Jos Sances was also a member, as was Michael Rios. Rios completed a CAC Artist-in-Residency, producing a series of posters for the Center. Once the offices were opened (a converted house) some of the "Pintos" lived in the back room. The Pinto program, however, failed because the "Pintos" required much greater specialized care than anticipated. Drunkenness was a recurring problem with the "Pintos" and their behavior had put La Raza Silk Screen Center at risk; thereafter that program was discontinued. During this time Harold Ortega dropped out of the organizing of the Silk Screen Center and Al Borvice asked Oscar Melara to help do this.
Volunteers flowed between the La Raza Information Center and the "Los Siete" Defense Committee; the interior doors between the two storefronts were always open. These organizations and others needed to announce events, fundraisers, meetings, and demonstrations. The need for posters grew and those who worked or volunteered with the two organizations and were interested in visual images began to print them in the two storefronts. Printing was a nocturnal function. Posters were spread out over the floors and furniture to dry. Some of the inspiration to use the silkscreen process to create posters came from Tomás Morales and others from the Pinto Program of Los Siete. The volunteers soon gained a reputation for producing beautiful and functional poster work at a very low cost, and in some instances, for free. One individual sometimes did the poster artwork, from design to finished print and in other instances the effort was a collective labor of love. It was not uncommon for one artist to work on the design, another on preparing the stencils and screens and yet still another artist doing the actual printing with assistance from neighborhood youth. In the early days, the artist (s) signed none of the posters, and if credit was given it usually was a simple acknowledgement stating "Printed by la Raza Silkscreen Center". Tomás Morales and Oscar Melara were the first artists of La Raza Silkscreen Center.
 Shortly afterward Linda Lucero and Herbert Sigüenza (of Culture Clash fame) became key members of this collective of artists/organizers based in San Francisco's Mission District. Others who worked diligently with the Center to design and print posters in its earlier years include Rayvan Gonzales, Miriam Medina, Kike Estrada, Roberto Andress, Consuelo Mendez, Antonio Chavez, Uruyoana, Rosa Quintana, Carlos Azucar, and Juan Fuentes.  Over the next four years the center expanded its printing services and also provided silkscreen classes for neighborhood residents and local artists on a fee for service basis and introduced a training program to teach local youth the art of silk screening.  During this period La Raza Silkscreen Center produced posters for hundreds of community organizations and events, the United Farm Workers,  the first La Raza Unida Party convention in Crystal City, Texas, to name a few.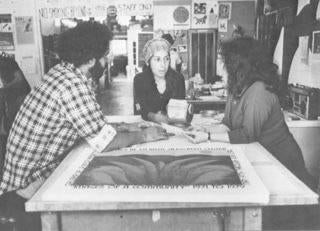 In 1974 the center once again moved to a larger facility and added offset printing and typesetting to its graphics program.  At this time the center's name changed to La Raza Graphics Center.  In addition to the design and print work the Center did for others, it also had an extensive catalog of its own prints that it would sell to the public.  This attracted many other visitors to the Center to buy politically/culturally/socially relevant posters for their homes, schools, organizations, etc. 
For almost two decades after its founding, La Raza Silkscreen Center / La Raza Graphics was a major producer of silk screened posters and prints in the San Francisco Bay Area. During these years the Center was an independent, nonprofit organization with strong organizational ties with La Raza en Acción Local, Inc. Until the 1983 re-organization, the Center was under the umbrella of La Raza en Acción Local, a Mission-based Latino directed organization that also founded La Raza Information Center, La Raza Tutorial Program, La Raza Centro Legal, and the Housing Development and Neighborhood Preservation Corporation.
La Raza Silkscreen Center / La Raza Graphics had been organized by young artists/organizers who viewed art as a means of self-expression and as tool for community organizing. Most posters were produced during a turbulent period in our nation's history.  These years were marked by prevalent economic and political issues that included civil rights, the Vietnam War, the United Farm Workers movement, women's rights, and police brutality, as well as the struggle by people of color and the poor for equal access to higher education, health, housing, and political representation. Student and revolutionary movements in Chile, Mexico, Nicaragua, El Salvador, Puerto Rico, the Philippines and elsewhere were making headlines.  In the Bay Area, numerous political exiles from Central and South America joined local activists to form international solidarity groups. The Vencerémos Brigade sent annual contingents of US citizens to break the U.S. government cultural and economic blockade of socialist Cuba.
hese times are reflected in artwork that came out of La Raza Silkscreen Center / La Raza Graphics . The collective produced posters for community-based organizations that announced rallies, cultural and educational events, services, and benefits. At the same time, the artists produced posters that were individual expressions of resistance, affirmation and solidarity. The posters were a means to address concepts of self-determination and self-definition as artists, as organizers, and as a community.
For the Chicano and Latino community, La Raza Silkscreen Center / La Raza Graphics was a social site for the gathering of artists, for arts training, and for silkscreened print and poster production. Besides silkscreened posters, the collective eventually added graphic design, typesetting and offset printing to its services that by 1975 had extended well beyond the Mission District.  Artists and organizers from New York City, Chicago, Boston, Puerto Rico, Australia, Cuba, Mexico, El Salvador, Nicaragua, and other places visited the Center's 3174 Sixteenth Street location at various times to exchange posters and ideas. Many, like Cuba's Choco, often stayed long enough to design and print a poster to add to the Center's collection.
Along with similar art centers in California including the Royal Chicano Air Force, Self Help Graphics, and La Galería de la Raza, La Raza Silkscreen Center / La Raza Graphics was a public space where Latino artists could develop as artists and as community leaders.  La Raza worked collaboratively with Fits Press, Chicano Arts Center, Casa Nicaragua, Women's Press Collective, Mission Gráfica, and countless other political and arts organizations in the Bay Area.
The Center gained local, national and international recognition when posters from the Center were exhibited throughout the Southwest, Washington D.C., Chicago, New York, Tijuana, Mexico City, and Habana. Posters from La Raza Silkscreen Center was included in several exhibits and catalogues, among them "Images of an Era: The American Poster 1945-75" (Smithsonian Institute, 1975); "The Fifth Sun, Contemporary/Traditional Chicano and Latino Art" (University Art Museum, UC Berkeley, 1977); "A Traves de la frontera" (Universidad Autónoma de México, 1983); and "Chicano Art Resistance and Affirmation" (UCLA, 1991). More recently La Raza posters were included in exhibits and catalogues for "Pressing the Point: Parallel Expressions in the Graphic Arts of the Chicano and Puerto Rican Movements" (El Museo del Barrio, NYC, 1999-2000), and the nationally touring exhibit "Just Another Poster: Chicano Graphic Arts in California" (2001-2003, University of California, Santa Barbara).
The year 1982 was a major turning point for La Raza Silkscreen Center / La Raza Graphics . The Center had stopped printing posters using the silkscreen process, concentrating instead on offset print technology and job training. By the time it moved to a new location at 938 Valencia Street in 1983 the Center was struggling financially. The crisis forced the Center's leadership to review its mission and reorganize.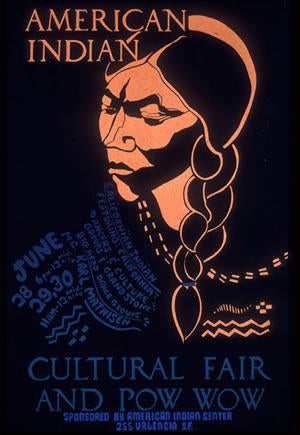 After a major restructuring of the staff and board of directors, the Center emerged re-invigorated and re-dedicated to its mission of serving the community through the arts. The Center continued to offer low-cost graphic design and bilingual typesetting for community organizations and would initiate many new arts programs in the next few years. With more space in its new location, the Center inaugurated a gallery, the Galería Esquina de la Libertad, where local, national and international artists were showcased in six to eight exhibits per year. Some examples include "René Yañez: Ideas That Fall from the Sky": "Urban Rhythms/Rural Roots: Antonio Ramirez and Domitila Dominguez"; "A Retrospective of Cuban Film Posters"; "Spain Rodriguez: A View From the Bottom"; "Horace Washington's Mask Series"; "Harry Fonseca and Jean LaMarr"; "Los Diablos: Mexican Devil Masks"; and "Malaquias Montoya and the Chicano Poster." The first ever exhibit of work by famed graffiti writer Twist (aka Barry McGee) was held circa 1993. While Galería Esquina de la Libertad concentrated on Latino artists for the most part, its scope included the diverse world outside its doors.
Between 1985 and 1993, the Center once again flourished. Free workshops in drawing, mural painting and printmaking for all ages were held regularly at the Center, taught by resident artists Herbert Sigüenza, Juana Alica, Emmanuel Montoya, Kate Connell and Francisco Camplis. Musician Jackie Rago and visiting musicians from Venezuela gave Afro-Venezuelan music workshops. The Center instituted an annual lecture series on contemporary visual and performing arts, including the annual "Roots of Salsa" series by ethnomusicologist John Santos and "Art Pláticas". Lecturers included Dr. José Cuellar, Gerardo Mosquera, María Pinedo, José Montoya, Dr. Daniel Crowley, Yolanda López, Jos Sanches, René Castro, Dr. Concha Saucedo, Dr. Amalia Mesa-Bains, Carlos Barón and others. The Center twice co-sponsored the Festival Latino de Teatro, collaborating with the New York Shakespeare Festival/Public Theater, to bring the best of Latin American theater companies to Bay Area audiences and rave reviews.
In celebration of its 15th anniversary, in 1986 La Raza Silkscreen Center / La Raza Graphics documented its poster archives and commissioned "Buscando America" a silkscreen print portfolio (printed at Mission Gráfica). Artists included Oscar Melara, Herbert Sigüenza, Juan Fuentes, Ester Hernández, René Castro, Irene Pérez, Sal García, Domitila Domínguez, Antonio Ramírez, José Letelier, Enrique Chagoya, and "Buscando America" organizer Linda Lucero.
By this time, of the original organizers, only executive director Linda Lucero remained along with core staff members Gino Squadrito, Astrid Peyloz, Norm Littlejohn, and Ana Bertha Campa; and key board members Mariano Diaz, Laura Rodriguez, Ricardo Hernandez, Diane Sanchez, Walter Panzar, Robert Perez, Luz Buitrago, and Tomás Ybarra-Frausto.  [LUCERO] According to Gino Squadrito, La Raza Silkscreen Center / La Raza Graphics gave him and other artists a sense of direction and personal growth as well as opportunities, connecting artists with others working for positive social changes.    Many of the artists who worked with La Raza Silkscreen Center went on to start other community poster centers of their own in other parts of the country.
La Raza Silkscreen Center / La Raza Graphics itself once wrote that the art it published "forms a historical record of the celebrations, struggles and social movements of the community during the last decade."  This statement helps show how important La Raza Silkscreen Center / La Raza Graphics was as an organization, not only to the Latino community, but also to the Bay Area.
In May of 1995, the Center's then executive director Robert Carrillo was hired to direct the Mission Cultural Center for Latino Arts (MCCLA). At that point the boards of the two organizations merged; La Raza Silkscreen Center / La Raza Graphics was folded into the larger MCCLA and closed its doors on Valencia Street.
Contributors to this essay: Al Borvice, Pete Gallegos, Linda Lucero, Oscar Melara, Herbert Sigüenza, Gino Squadrito. Edited by Sal Güereña.