Leo Limón Papers (CEMA 95)
Leo Limón: Portrait of an Artist (Documentary)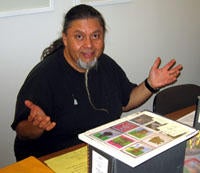 As an Artist in Residency with Self-Help Graphics & Art, Leo helped found several important programs at the center, including the annual celebration of Dia de Los Muertos. He opened and ran the screen print shop which later evolved into the renowned Atelier Printmaking Program. His fine art silk-screen prints have been exhibited nationally and internationally
Through his work one can see the aesthetic transformation of Los Angeles' public space, and not just in the aesthetics of his art. As the "L.A. River Catz" artist, he has been recognized for his efforts to revive the Los Angeles River as a historic region, cultural arts enclave and tourist destination. Integrating cultural aesthetics and ecology, his aim has been to restore the river as both a functional habitat for wildlife and a community recreational resource.
He has worked tirelessly as a youth advocate who has reached thousands of at-risk Los Angeles youth using his art to intervene in the gang violence of Los Angeles. Leo Limon's successful, innovative cultural arts-based strategies and methods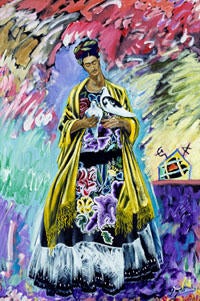 address a range of social issues. This process is defined as aesthetic activism that uses art for social transformation and social justice
His work is featured in Chicano Visions: American Painters on the Verge and Contemporary Chicana and Chicano Art: Artists, Works, Culture, and Education. The video documentary Leo Limón: Portrait of an Artist, provides important new biographical information and visual documentation, and the recently published oral history, The Art of Leo Limón: Giving Voice to the Chicano Experience, are an outgrowth of Limón's foresight to create a historical collection from his body of work and to house it in CEMA.