Guide to the Kearny Street Workshop Archives
New on OAC and Calisphere: Kearny Street Workshop posters from UCSB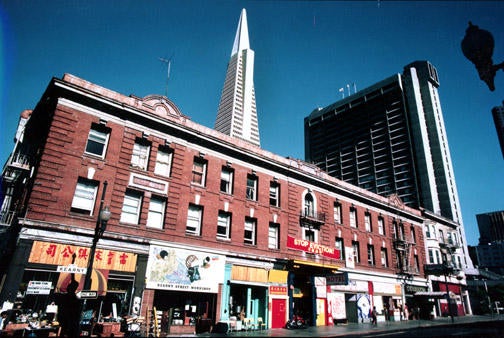 The Kearny Street Workshop archives are an important part of 20th century Asian American history. The nonprofit agency Kearny Street Workshop (KSW) is the oldest multidisciplinary Asian American arts organization in the United States. Established in 1972 as a collective of artists in San Francisco's Chinatown/ Manila town neighborhood, KSW is now a nonprofit agency that serves many Asian/Pacific American communities from its office in San Francisco. KSW is an essential national resource for Asian American artists.
Through collaborations with other arts organizations and cultural communities, both locally and nationally, KSW provides a forum for Asian American artists of different media to reach a wide, diverse audience. The American Jazz Festival, Started by KSW in 1981 flourishes to the present day.
KSW offers workshops, classes and arts management seminars; they produce a Bay Area resource guide for Asian American artists and present works by established and emerging artists.The struggles of the neighborhood defined the art produced by KSW members: low-income housing, strikes by garment and electrical union workers, and eviction of the elderly tenants of the International Hotel.
"We have 30 years worth of local Asian American history: posters, publications, and photos, including the International Hotel tenant struggle," said Nancy Hom, (Executive Director of KSW 1995-2003) "Because CEMA's collections include people and organizations whose histories are intertwined with ours, UCSB was a natural place for our documents."
Calisphere - Kearny Street Workshop digital images