Father of Chicano Music
December 24, 1916 - March 17, 2005
Guide to the Lalo Guerrero Collection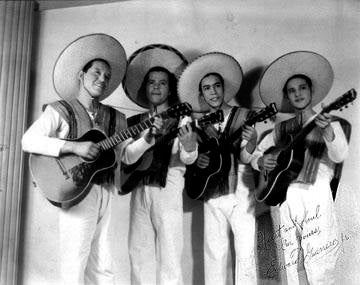 Eduardo "Lalo" Guerrero, known as the "Father of Chicano Music," has entertained lovers of Chicano music for six decades.  Composer, musician, singer and recipient of many awards, including the prestigious "National Medal of the Arts" awarded to him at a White House ceremony in 1996. Guerrero has played guitar and has sung in films alongside Jane Russell, Robert Mitchum, George Raft and Gilbert Roland.  He has serenaded the public alongside Frank Sinatra, Dinah Shore, Red Skelton, Milton Berle and Hoagy Carmichael.  He also co-hosted the Paul Rodríguez Show on Spanish-language television.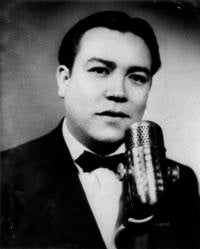 Guerrero claims many accolades; amongst the most prominent are those from Nosotros, the Mexican Cultural Institute, El Teatro Campesino and the United Farm Workers. In December 1996 he was awarded the "National Medal of the Arts" from President Bill Clinton and his wife Hillary at a White House ceremony with other honorees such as jazz great Lionel Hampton and opera star Luciano Pavarotti.  Guerrero has received a Golden Eagle Award from Nosotros, for lifetime achievement, and Caminos magazine's "Hispanic of the Year" award, as well as having his name immortalized in the Tejano Hall of Fame.  His name adorns streets and schools – Avenida Lalo Guerrero is found in California's Cathedral City and his former school in Tucson has been be named after him.  The Lalo Guerrero School of Music in Los Angeles, part of the "Art in the Park" non-profit organization, was founded in 1999.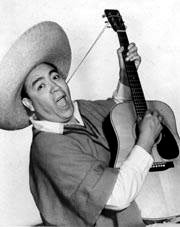 Guerrero was born in Tucson on Christmas Eve 1916, after his parents immigrated to the United States from Mexico in 1912.  Lalo gives all credit to his late mother for his musical ability, for it was from her that he learned to "embrace the spirit of being Chicano."  At 17 he wrote and performed the classic Canción Mexicana, a song that was endorsed by the Mexican people and became the unofficial Mexican National Anthem.  He began entertaining in bars then at military camps and hospitals during WW II.  By 1946 he was playing in a nightclub in LA called "La Bamba," where Hollywood stars frequented.  In the 50's and 60's Lalo had five songs riding the top 10 on the Latin and American music charts in the U.S.  His love and concern for his Chicano people soon had him traveling to farming areas where he championed farm workers' causes, writing songs about Cesar Chavez and calling for the decent treatment of agricultural laborers.  In the 1950's Guerrero made America laugh with satires such as "Pancho Lopez" and "Elvis Perez," while in the 1960's the children of America were entertained with Guerrero's music aided by three chipmunk-type characters, "Las Ardillitas." In 1978, four of Guerrero's songs were featured in Luis Valdez' hit film and musical "Zoot Suit." Luis Valdez' papers and the archives of his Teatro Campesino are also housed in CEMA.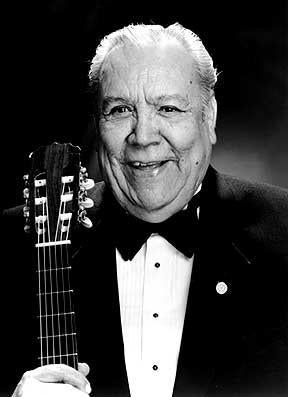 In 1998, at 81 years of age, Lalo Guerrero visited Paris along with his two sons, Dan and Mark. He played his beloved songs about his Chicano culture at La Cite de la Musique, a government-funded arts complex, at a three-day American music festival. Lalo's signature, "Barrio Viejo," had a standing ovation. This song above all has meant more to him than anything he has ever written, for it embodies what his mother called "Puro Chicano."
According to CEMA director Sal Güereña "The UCSB Library" acquisition of the Guerrero Papers is a significant milestone. This is part of a new initiative of the library's Performing Arts Collections and CEMA to document the legacy of Mexican American music in California."
Moreover, Güereña said "Time is running out, materials are getting lost, and memories are fading. For this reason it is essential to preserve the recordings and archives of performers such as Lalo Guerrero." The Guerrero Collection is rich in photographs, videos, interviews, correspondence, phonograph records, audiocassettes, scrapbooks, and ephemera.
The Guerrero collection ranges from photographs autographed by the President and Hillary Clinton to music and lyrics sheets for his comedic "Elvis Perez" and his "El Hustle de las Ardillitas" (the "Chipmunks' Hustle"), recordings of his parodies such as "I Left my Car in San Francisco" and taped interviews and performances on the Univisión television show "Cristina".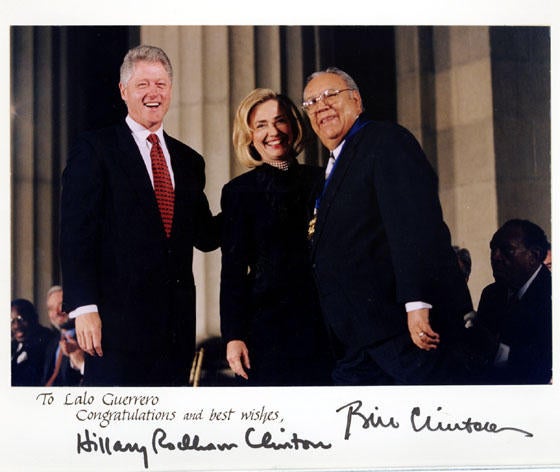 Lalo Guerrero - Father of Chicano Music - Official Website
For more information about Lalo Guerrero please visit his son Mark Guerrero's website.
Break Records released a Lalo Guerrero CD of new recordings in 1999 entitled "Vamos A Bailar - Otra Vez! with Lalo Guerrero". Arhoolie Records also produced a compilation entitled "Pachuco Boogie" that includes three of Lalo Guerrero's songs, in Vol. 10 of its "Historic Mexican-American Music" series. Most recently, Nonesuch/Perro Verde Records' "Chavez Ravine: A Record by Ry Cooder" includes Lalo Guerero's music.
For information on the documentary "Lalo Guerrero: The Original Chicano" go to Original Chicano Productions.