Finding Guide to the Shifra Goldman Papers
1983 Shifra Goldman video interview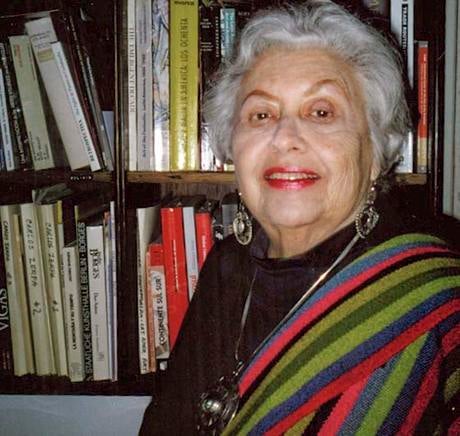 Shifra Goldman was an Art historian and pioneer in the study of Latin American and Latino art. As an  activist for Latino art, part of her life's work in her own words was to "deflect and correct the stereotypes, distortions, and Eurocentric misunderstandings that have plagued all serious approaches to Latino Art history since the 50s" (Dimensions of the Americas, Goldman 1996, pgs. 36, 37). She taught college level art history in the Los Angeles area for over 20 years. Goldman is known as a prolific writer and advocate critic who had a hemispheric scope informed from her studies, travels and relationships with many artists.
Goldman was born in 1926 in New York and was raised by her Russian Jewish parents. She graduated from the High School of Music and Art after which her family moved to Los Angeles. In the late 1940s she attended school at UCLA and was involved in the civil rights movement. She was a member of the Civil Rights Congress of Los Angeles until she left to have a child with her Mexican American husband.
Goldman was able to go back to UCLA while in her mid 30s to finish her undergraduate studies; receiving a B.A in art in 1963. She then studied art history at Cal State Los Angeles were she received a Masters in Art History in 1966. She taught at numerous colleges in the Los Angeles area.
In the 1970s she had the challenge of breaking new ground in her doctoral study of Latin American Art at UCLA. Contemporary Mexican Painting in a Time of Change, her first book, is based on her theses of 1977 titled "Nueva Presencia, the Human Image in Contemporary Mexican Art." She presented her thesis for her PhD in art history which she received from UCLA, with a specialization in modern Latin America. In 1994 she became a Research Associate with the Latin American Center at UCLA and taught art history there. Goldman is also Professor Emeritus from Santa Ana College, Santa Ana, CA.
In 1968, she began the campaign to preserve the 1932 Siqueiros mural, Tropical America, at Olvera Street, Los Angeles, and in 1971 approached Siqueiros for a new mural derived from the original. He agreed but the plan was thwarted by the artist's death in 1974. His last mural, Portrait of Mexico Today, 1932 in Los Angeles has been restored and moved to the Santa Barbara Museum of Art in California with Goldman's advice and assistance.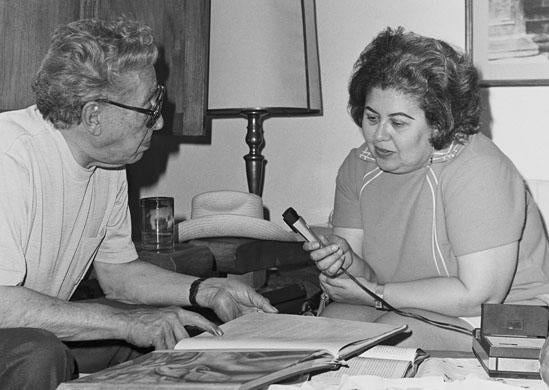 Goldman's first book, Contemporary Mexican Painting in a Time of Change, appeared in 1981, and she initiated and co-authored the bibliography and theoretical essay of Arte Chicano: A Comprehensive Annotated Bibliography of Chicano Art, 1965-1981 (1985) with Dr.Tomás Ybarra-Frausto.
In 1983 (along with Cecelia Klein), she proposed the original plan and served on the committee for the exhibit "CARA: Chicano Art: Resistance and Affirmation" which opened at UCLA in 1990. The book  Dimensions of the Americas: Art and Social Change in Latin America and the United States, appeared in Dec. 1994. Goldman has major essays in a number of anthologies, and has published in Europe, Latin America and the United States. Her work can be found in catalogues, encyclopedias, and dictionaries, as well as newspapers and magazines like La Opinion, Artweek, Aztlan (California), Arte en Colombia/Art Nexus (Bogotá), Art in America, Art Journal (New York), New Art Examiner (Chicago), Art History (London), Casa de las Américas (Cuba), Plástica (Puerto Rico), Plural (Mexico), Studies in Popular Latin American Culture (New Mexico), Tendenzen (Munich),Third Text (London), and many more.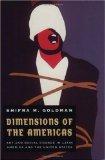 Goldman has lectured widely on many aspects of Latin American and modern art. In February 1992, she received the College Art Association's (CAA) Frank Jewett Mather Award for distinction in art criticism and, in February 1993, an award from the Women's Caucus for Art for outstanding achievement in the visual arts. CAA's Art Journal, dedicated to "The Columbus Quincentenary and Latin American Art: A Critical Evaluation" and co-edited by Goldman and artist Luis Camnitzer, appeared in Winter 1992. She was elected to the board of the CAA, 1995-1999. In 1996, her book Dimensions of the Americas, was granted the Hubert Herring Award for high achievement by the Pacific Coast Council on Latin American Studies.
An autobiographical excerpt follows in which Goldman explains her own "personal odyssey" as an advocacy critic, art historian, activist and educator (Dimensions of the Americas, Part II Personal Odyssey: The Search for a Social History of Art, pg 36).
"My own contribution to the discourse, which began in the 1970s with publications and numerous lectures on Mexican and Chicano art, was scarcely known in the United States since most of my articles appeared in Mexico, Europe, or in the Spanish-language and the alternative press of the U.S. With the 1981 publication of my book Contemporary Mexican Painting, and the 1985 appearance of Arte Chicano, however, my location within the sparse field of modern Latin American scholarship in the United States, was established. The network of progressive artists and art historians in the United States and Mexico (including those of us recording and participating in the dialogue about the national mural movement of the seventies and eighties) was expanded by the addition of new friends and colleagues throughout Latin America resulting from my extensive travels. Further conjunctions occurred as the result of the numerous campaigns in the art arena in which I was involved: the actions taken in the early 1960s to induce the Mexican government to free Siqueiros from jail; the California Peace Tower of 1966; the attempt to restore the 1932 Siqueiros mural in Los Angeles, which enlisted large segments of the Chicano community and participation by the arts community, beginning in 1968 and continued into the 1990s; the huge 1969 "Fiesta de los Barrios" in Los Angeles, the largest cultural endeavor organized by the newly emerging Chicano student and youth communities at the time, and one that attracted 10,000 people in one weekend; the numerous efforts on behalf of the United Farm Workers throughout the seventies; the organization of Los Angeles' Artists Call; the activities with Art Against Apartheid; my active involvement from 1983 on with the 1990 groundbreaking exhibition at UCLA of "Chicano Art: Resistance and Affirmation"; and my participation on many panels which opened up new territory on Latin American and Latino art. Thus the two facets of my life - the art historical and the activist; the theoretical and the empirical - were in constant conjunction, feeding from each other and enriching each other, forming that praxis which I consider essential to a social art historian and educator who is dealing with contemporary art."
The Shifra Goldman Papers are a valuable resource that includes an expansive collection of  slides  and books, as well as videos that she used for research, writing and teaching.  Her slides are an important record of Latin American Art from art in Los Angles and the Southwest United States as well from her travels and research in New York, the Caribbean, Mexico and South America. Copious information on Chicano/a artists and Latin American Artists in their home countries and other locations is part of this collection.  All of her publications are listed in Goldman's comprehensive curriculum vitae. This is a wonderful collection that complements and enhances CEMA's already extensive archival holdings in Chicano/Latino art.
--------------
"Goldman's is a distinctive voice, solidly grounded in research and alert to significant cultural shifts." (Pitman 1995).
References
Dimensions of the Americas: Art and Social Change in Latin America and the United States  Review : Latin American Art, by John Pitman Weber Art Journal © 1995 College Art Association.
"A Wider Sense of History", Leah Ollman, Los Angeles Times, Sunday, December 17, 1995.