Guide to the Juan R. Fuentes Papers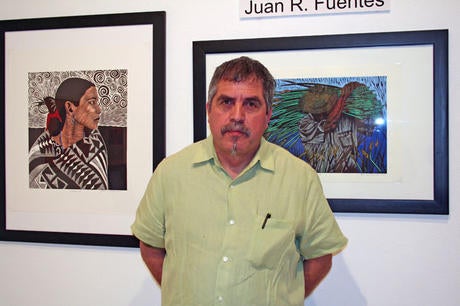 Juan R. Fuentes was born in Artesia, New Mexico, in 1950 and currently lives and works in San Francisco, California. In 1969, he began studying art at San Francisco State College. As a dynamic cultural activist, artist, and printmaker for over thirty years, Fuentes has devoted his work to the advancement of community issues and social justice in addition to exploring the human condition.
After serving ten years as the Executive Director of Mission Gráfica at the Mission Cultural Center for Latino Arts (SF), Fuentes founded the printmaking studio Pajaro Editions. He continues to mentor emerging artists as a founding member and curatorial advisor for Art 94124 Gallery and as visiting faculty at the San Francisco Art Institute. In 2009 the Center for the Study of Political Graphics bestowed on him the Art as a Hammer award.