Guide to the William Downey Papers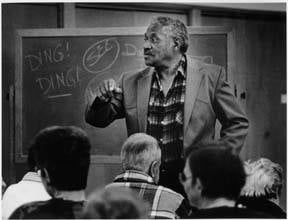 William Downey, known to most as "Bill" was born June 15, 1922 in Ottumwa, Iowa. His family moved to Chicago, Illinois where Downey attended elementary school and early high school. The family returned to Ottumwa following the death of his father. After graduating from high school he enlisted in the Marine Corps to fight in World War II. In 1945, after leaving the Marine Corps, he returned to Iowa where he eventually owned and operated an auto repair shop in Des Moines, Iowa for over twenty years.
In 1965, Downey and his wife visited Santa Barbara and relocated to the community the following year. During this time his wife encouraged him to begin his writing career. Having only a high school education, Downey set out to start a career in journalism. Although he was in his 40's before he began his writing career, it was obvious that he had a natural talent for writing after he published a three-part story about the African-American Muslims in Santa Barbara. The article caught the attention of the Santa Barbara News Press and Downey became its first African-American reporter. He worked his way up from writing obituaries to a feature-story writer. Downey was famous for his 'Gone Fishin' columns, which often featured a colorful character 'Uncle Russell'. He also published feature articles in Better Homes & Gardens in Des Moines Iowa, Western Outdoor News, American Shootgunner and Outdoor Life.
Downey's career changed after he wrote an article about a boy who was dying of leukemia. Newspapers from around the world picked up the article. He expanded the article into a story and sold the movie rights. The proceeds afforded Downey the opportunity to end his fourteen-year career at the Santa Barbara News Press. After leaving the News Press Downey invested more time writing novels and teaching.
Downey was well respected in the literary community for his work with the Santa Barbara Writers Conference and his writing classes through adult education and UCSB Extension. He was a member of Outdoor Writers of California, Pillsbury Foundation Writing Committee, Adult Education Instructor's Association, and Santa Barbara Continuing Education Association. Downey was the author of the five novels which include, Tom Bass: Black Horseman, Black Viking, Uncle Sam Must be Losing the War, EDOU, and Right Brain: Write On! William Downey died on September 1, 1994.