Guide to the Diane Gamboa Art Documentation Collection
Diane Gamboa is a visual artist from Los Angeles California. She attended East Los Angeles College as well as the Otis Art Institute. She has been producing art, exhibiting her work, and curating visual art for over 30 years, and has been involved in many different forms of art education ranging from after-school programs, art programs for homeless youth, and in college and university settings.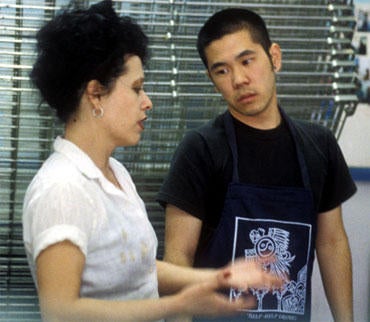 Her recent solo exhibitions include "Bruja-Ha" at the Tropico de Nopal Gallery , "Chica Chic" in the Correia Gallery in Santa Monica, and she has exhibited in this country and abroad, including nationally traveling shows such as the iconic, Chicano Art: Resistance and Affirmation." Diane is a life-long resident of Los Angeles. In the early 80's she photo-documented the East L.A. punk rock scene. Through most of the 1980s she was involved in the performance art group, ASCO. Diane organized many site-specific "Hit and Run" paper fashion shows that became so popular that some of the outfits she created are now housed in museums. During the 1990s and the 2000s she created many new works using acrylics, oil paintings, drawings, silkscreen prints and ink on aluminum.
Altered States: Diane Gamboa and the Aesthetics of Provocation (October 14 - December 13, 2013) | Gamboa's artist talk | Diane Gamboa: an interview with Tomás Carrasco