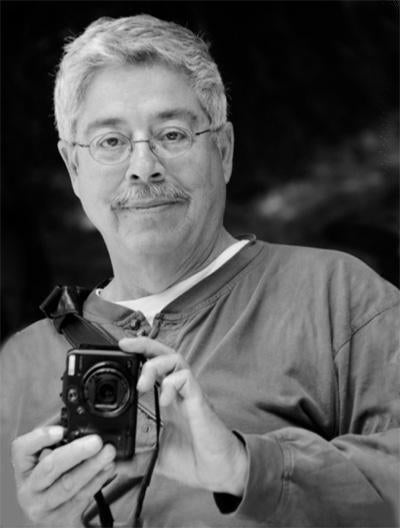 Preliminary Guide to the Daniel del Solar Papers - CEMA 145        
     Daniel del Solar (June 13, 1940 - January 13, 2012) was a prominent Latino media activist, photographer, videographer, documentarian, and poet who succeeded in contributing a remarkable amount to the Latino culture throughout his life.  Born to the Venezuelan painter Luchita Hurtado Mullican and the Chilean Time Magazine journalist Daniel del Sorel Morel, del Solar grew up in Mexico, New York, Mill Valley, and Santa Monica, California, where he graduated from Santa Monica High School before attending Harvard University and going on to establish a career in public media. 
     In the early 1970s, he joined the Berkeley KPFA-FM Comunicación Aztlán Collective.  This was an offshoot of the Freedom Archives, an organization committed to the preservation and distribution of over 5,000 hours of audiotape recordings from the late 1960s to the mid-1990s focused on social and cultural transformation.  By the mid-1970s, he became the National Director of Training and Development at the Corporation for Public Broadcasting in Washington D.C.  He worked with KQED-TV as Community Resources Coordinator for "Open Studio," an experiment giving more people access to the tools of media production, and served as General Manager of KALQ-FM in San Francisco from 1985 to 1992 as well as General Manager of WYBE-TV in Philadelphia from 1992 to 1995.  He was also on the national board of Citizens for Independent Public Broadcasting and was Development Director of the Mission Cultural Center for Latino Arts.
     Settling in the Bay Area, del Solar actively participated for the next four decades in politics and art, writing poetry and documenting the movement towards progressive public media in the area.  He co-produced a weekly radio program entitled "Reflecciónes de la Raza," which aired on KPFA-FM, and contributed to the current KPFA weekly program "La Raza Chronicles," which follows Latin political culture.  He was a founding co-editor of "Tin-Tan," a Chicano/Latino cultural magazine in San Francisco, contributed to the literary magazine El Tecolote Literario, and co-produced "Chile: Promise of Freedom," an audio CD distributed on worldwide radio by the Freedom Archives. His photos have appeared online and in books, including one entitled The "Woman Factor" in the Stepwells of Gujarat, written by his friend Purnima Bhatt.
     Perhaps one of del Solar's most enduring legacies was his involvement in many Latin American social justice and solidarity movements. His involvement was on a somewhat personal level, as one of his cousins in Chile disappeared during the reign of military dictatorship following Allende, and the junta in Santiago had one of his friends killed in Washington.  He traveled widely, reporting on events in Cuba, Chile, and Nicaragua in addition to the work of Venezuelan leftist leader Hugo Chavez.
     Del Solar died in Oakland, California at the age of 71 after a long battle with metastatic prostate cancer.  His marriage to Diane Diamond ended in divorce, and his second wife, Susan Miriam Castellon, died November 22, 2003.  He has four half-brothers, John and Matt Mullican and Kim and Rodrigo del Solar-Gill.  His mother resides in Santa Monica.
Daniel del Solar Mexican Antiquities images (pdf file)