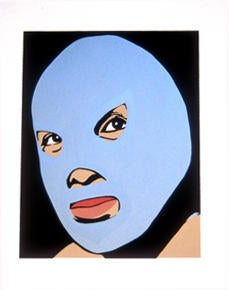 Established in CEMA in April 2004, the collection consists of the striking iconic work of graphic artist Lawrence "El" Colacion. Originally from Compton, Calif. Colacion now resides in the San Francisco Bay Area. Graphic artworks by Colacion have been exhibited widely in both southern and northern California venues as well as in Mexico, England, France, Germany and Italy. Colacion has printed and worked at both the Mission Cultural Center in San Francisco and at Self-Help Graphics&Art in East Los Angeles. He has been the art director for Mission Badlands Gallery in San Francisco.
Colacion describes the incipience of his work as being in the genre of punk rock art. Commenting on his art Colacion states, "I see my art as an extension of my visual world, past, present and future.
It is the sum of my total experience as growing up a Chicano in the Greater Los Angeles area. My images reflect my bi-cultural upbringing; they range from traditional Mexican icons to American pop icons. Our Lady of Guadalupe juxtaposed with Selena is possible as well as Bob's Big Boy eating a taco. Often when asked to describe my art or place it in a neat category, I have much difficulty. I suppose my art can be described as, "Post Pop Chicano Punk Art."
The silkscreen print illustrating this page is entitled El Hefe Santo (1997) and was included in the art show Happening Underground International 8 that he curated in Leoncavallo, Milan, Italy.
The Lawrence Colacion Papers will be expanded over time and will consist of graphic artwork, show posters, photographs, ephemera, and other materials.
Sal Güereña, April 9, 2004