Guide to the Adelina García Collection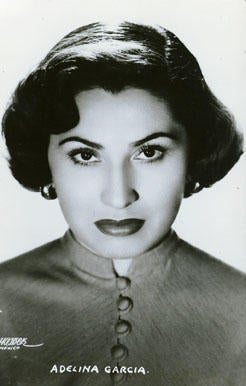 Adelina García is considered to be the most renowned singer of the golden era of the romantic bolero, during the 1930s and 1940s. Aficionados of this genre of music are found far and wide throughout the United States, Mexico, and Latin America. Born in Phoenix, Arizona in 1923, Adelina García spent her childhood in Cuidad Juarez, Chihuahua, Mexico. She made her debut on radio station XEP in that city and it did not take long for her singing talent to become known throughout the region, returning to Phoenix in 1937. She made Los Angeles her permanent home in 1938 and it was then, at the age of fifteen, that she landed her first recording contract on the Columbia label, launching her illustrious singing career. She sang live on radio stations throughout the U.S. that broadcast to the Latino community. Her blossoming singing career went from one hit song to another on record labels such as Columbia, RCA Victor, and Azteca. Among her most well known songs recorded in the 1940's were "Muchachita", "Vereda Tropical", "Desesperadamente" and "Mi Tormento".
Following a successful tour of Brazil, her many live performances on Radio Station XEW in Mexico City gave her broad exposure in that country, and that helped to extend her fame throughout Latin America where she toured many other countries. Her first Mexican performance was in Mexico City in 1944. Adelina García collaborated with many composers and artists, one of whom was the popular Mexican composer Gonzalo Curiel. Curiel accompanied her at her Brazilian venues, playing the piano and directing the orchestra; she recorded on the Odeón label while in that country. García also toured throughout the southwest U.S. and California. In 1955 she went back to Los Angeles where her singing career continued until the late 1950's. During that time period she had married percussionist José Heredia and focused her attention on her family, performing only on special occasions.
The Adelina García collection was acquired in 1997. It consists of sheet music, programs and playbills, publicity, performance and social photographs, photo postcards, news clippings, some correspondence, as well as magazines containing articles about Adelina García. The collection now includes fourteen of her sound recordings from her known discography, eight of which were produced on the Azteca label that was based in Los Angeles.
Music
Adelina García on Discography of American Historical Recordings