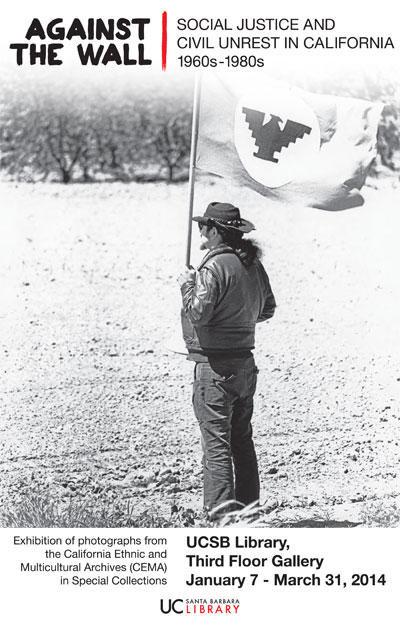 Against the Wall
Social justice and civil unrest in California 1960s - 1980s
January 6 - March 31, 2014
The focus of this exhibition is on communities of color in California and their struggles for civil rights and social justice.
The period of the mid-1960s through the 1980s was a time of protests, marches, and demonstrations. Some of the many issues that inspired people to activism were farm workers' rights, women's rights, and fair housing and tenants' rights. Flashpoint issues included police brutality, opposition to the Vietnam War, and racial and educational inequalities.
Against the Wall: Social Justice and Civil Unrest in California,1960s-1980s begins with a photograph of a 1967 open-air stage performance of the Chicano theater company El Teatro Campesino, founded on the picket lines of César Chávez's United Farm Workers Union. Depicted is its leader Luis Valdez speaking in Washington D.C. on behalf of the United Farm Workers to Senators Ted Kennedy, Harrison A. Williams, and Ralph W. Yarborough.
Among the iconic events portrayed in the exhibition are two anti-Vietnam War marches: the August 29, 1970 Chicano Moratorium and the 1971 La Marcha de la Reconquista, which spanned much of the length of Cali-fornia. Both of these major demonstrations helped galvanize the Latino community against the Vietnam War.
Also pictured are the 1977 tenant protests in San Francisco's Manilatown. Urban renewal projects in that city led to forced evictions of mainly elderly tenants from their homes, such as the International Hotel at the cor-ner of Kearny and Jackson streets. The low-cost hotel housed many Asian-American residents, largely Filipi-no-Americans.
The photographs and documents of Católicos por la Raza, the Black Panther Party, the American Indian Movement, and the United Farm Workers are just a few snapshots of the broad landscape of social movements that characterized this formative period in California's—and the nation's—history. Completing the exhibition are images of the 1989 hunger strike at UC Santa Barbara, during which students protested institutional rac-ism. Their nine major demands included the establishment of an ethnic and gender studies requirement and specific targets for the hiring of faculty of color.
This exhibition is presented in conjunction with UC Santa Barbara's 2013-14 Critical Issues in America Series, which is examining "The Great Society at Fifty: Democracy in America, 1964/2014." Items in the exhibition are drawn from the California Ethnic and Multicultural Archives (CEMA) in the Library's Special Collections.