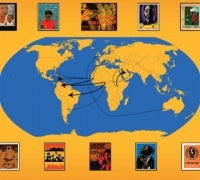 Wed, 02/01/2012 - 8:00am

to

Fri, 06/15/2012 - 5:00pm
Exhibition
Location:
Third Floor Gallery, Ocean Side
In Africa and the Americas: the Legacy of the Diasporas
This exhibit represents the legacy of the movements of a people from their origins in Africa, their struggles for social justice in that continent, and their dispersal to North and South America, as represented in the graphic art collections in the California Ethnic and Multicultural Archives in the Department of Special Collections. The viewer is advised that owing to the limitations in scope of this exhibit, it cannot constitute a historical narrative of the Diasporas, but it can capture some important moments in the timeline.
The operative term is "Diasporas." There were many strands to these Diasporas, including involuntary and voluntary transnational movements of peoples from the African continent throughout the globe. Between the years of 1500 and 1900 an estimated 9,600,000 slaves were taken by force to the Caribbean and Central and South America, approximately 500,000 were taken to the U.S., and 4.3 million were taken to the Middle East and the Persian Gulf.
The visual narrative includes their indigenous origins in Africa, the oppression of these noble peoples through the slave trade and colonialism, and ultimately their indispensable role in the economic, political, intellectual, and moral life of the nation, including ascendancy to the American presidency. The 2008 poster "Yes We Did" accentuates yet another Diasporic strand: in September 1959, Barack Obama's father, Barack Hussein Obama was part of a group of 81 talented young Kenyans airlifted to the U.S. He became the University of Hawaii's first African foreign student, eventually returning to Kenya in August 1964.
The exhibit reflects the dichotomy of both exclusion and inclusion of Americans of African origins and their emergence as an important political presence and force in American and global societies. Also represented are the contributions of African Americans to the American Westward Movement and to social justice for all through the civil rights movement, including the protest movements for social justice, for human rights, and the Black Power Movement. As part of the legacy of these Diasporas, their contributions to American culture in music, art, and literature also are celebrated.