Guide to the Nancy Hom Papers
Nancy Hom is a silkscreen artist, writer, graphic designer, curator, and children's book illustrator. Based in San Francisco, Nancy Hom was Executive Director for the Kearny Street Workshop and was co-founder of the Asian American Media Collective in New York City.  She moved to San Francisco in 1974 and became involved in developing neighborhood arts organizations there. Kearny Street Workshop is the oldest surviving multidisciplinary Asian American community arts organization in the United States.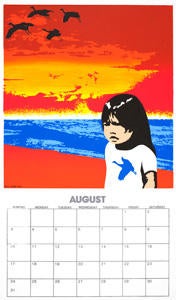 Nancy Hom is known for her vibrant posters and illustrations. She was born in Toishan Province, China and moved to New York City at age 5, graduating from Pratt Institute with a B.F.A. in illustration and visual communication. She is an internationally exhibited artist and has worked with many Bay Area arts groups, including the Galeria de la Raza, Japan Art and Media Workshop. Nancy Hom has been associated with Kearny Street Workshop for over 30 years as an artist, community activist, executive director, and member of the Board of Directors. The Nancy Hom Papers were established in CEMA in 2002.