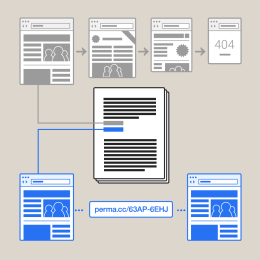 Did you know that most links on the web become non-resolvable after 100 days and that about 70% of news-related links disappear within a day? Even if this alarmingly short lifespan is news to you, we bet you've probably encountered a 404 error before (if not multiple times), meaning that the content you were trying to access was no longer available.  The web is a highly dynamic and ephemeral environment; domains change, and resources relocate or disappear without notice.  As a result, today's active link may lead you to a dead-end tomorrow.  
Broken links are one of the most common issues academics experience when citing and accessing web resources.  Citations are vital to scholarly work; they support your arguments, correctly credit authors you are basing your ideas on, and allow those reading your work to locate and explore the sources you have included in your research. While so-called "persistent Identifiers" (which go by acronyms such as DOI, ARK, Purl, HDL) were developed to mitigate problems associated with conventional URLs, they either cost money or apply only to repositories that have direct control over their digital resource, since updates are required in the resolving service if the URL changes. 
Having this challenge in mind and acknowledging the harmful effects of broken citations to scholarship, the Harvard Law School developed Perma.cc. This service allows users to archive a snapshot of the web content they are citing and produce a permanent link that will always be accessible to readers.  Essentially, Perma.cc downloads the openly accessible content at that URL provided by the user and gives back a new URL (a "permalink") that can then be referenced as a perpetual resource.  Another advantage is that permalinks are shorter than most URLs (the original URL for the item in the footnote was 158 characters long!), which makes your reference list look much neater. Readers can click on permalinks and will be directed to the Perma.cc website, where they are presented with a page that has links both to the original web source (along with some information, including the date of the permalink's creation) and to the archived version stored by the system.
As part of the UCSB Library's mission to provide services in support of collaboration, intellectual engagement, and knowledge creation in our community, we have recently become a Perma.cc partner institution. The Library's Research Data Services (RDS) department is sponsoring free accounts for UCSB affiliates and providing training for those interested in this service. Request an account by filling out this request form. Learn more or contact us for assistance: rds@library.ucsb.edu.