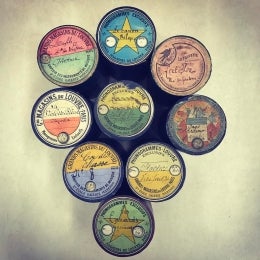 UCSB Library Launches Early Recordings Initiative in Effort to Preserve Last Remaining pre-1903 Sound Recordings
In a race against time, the elements, and eBay, the UC Santa Barbara Library, in collaboration with L.A.-based collector John Levin, has created the Early Recordings Initiative—the first public-private partnership to promote the preservation, digitization, and public access to pre-1903 sound recordings.
"The majority of these recordings have been lost due to their sensitivity to humidity and poor handling over the years," said Levin. "It's amazing that any of these have survived." 
First invented by Edison in 1877 and made of tinfoil, then commercialized as wax cylinders about the size of a soda can, cylinders have a soap-like texture that makes them extremely fragile.
"Early recordings are like endangered species that scientists know cannot survive in the wild," said Levin. "These records need special handling and care if they are to survive more than another 20 to 30 years."
This is why it is critical for institutions like UCSB Library to manage, store, and curate the ones that remain so this era of audio history is not lost forever. 
"Brown wax cylinders document an important time in our history," said Levin. "They came before the dawn of mass media and before there was a music industry or commercializing of music and spoken word as a commodity. It's a time of tremendous change, industrialization, people moving from rural areas to cities, and economic instability."
Cylinders made before 1903 are particularly important as that was the year they began to be mass-produced. Most extant pre-1903 recordings are unique examples.
"When we think of a record now, we think of a record being a copy," said Levin. "Before 1903, there was almost no such thing as a copy because they were made in small batches."
Unlike printed materials, these early recordings have not been systematically collected, documented, or studied - until recently.
UCSB Library has the most extensive collection of early recordings on the West Coast and began recording and digitizing its Cylinder Audio Archive in 2002. The archive has grown to become the largest online collection of downloadable historic sound recordings thanks to its staff who work in the Henri Temianka Audio Preservation Lab, housed in UCSB Library Special Research Collections.
The effort, led by Performing Arts Curator David Seubert, caught Levin's attention. The two began to devise a way to create options for people to pass their collections on without forcing them to make a choice between donation, compensation, or dissolution.
"People need an incentive not to sell [cylinders] on eBay," said Levin. "We've got to encourage people to get cylinders out of their attics, basements, and storage lockers and into long-term preservation and public distribution."
The result is the Early Recordings Initiative, which takes a collecting strategy common in the art world and applies it to early sound recordings, allowing people to sell, donate, or do a combination of the two when giving their collection to UCSB Library.
The ERI is based in the Performing Arts Collection at the UCSB Library and is anchored by the John Levin Early Recordings Fund. As part of the ERI, the Library will eventually receive portions of The John Levin Collection, featuring his extensive collection of rare, pre-1903 cylinder recordings along with Levin's research on content and provenance. 
Once that collection comes to UCSB Library, it will be the most comprehensive audio cylinder collection in the country, both in rarity and number of cylinders.
"There's nobody else that's going to do this," said Levin. "UCSB is the best hope that when we're all gone, this sound will still be out there, available to people, and preserved."