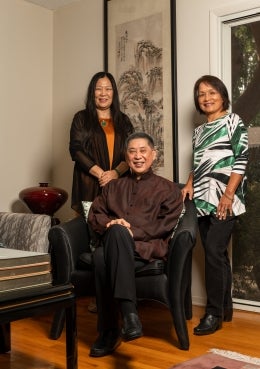 Original, handwritten manuscripts by an author who has been called a Nobel Prize contender and compared to Ernest Hemingway are now available for everyone around the world to see.
Pai Hsien-yung, also known as Kenneth Pai, was a professor of Chinese literature at UCSB from 1965 to 1994. "Kenneth Pai is probably the most famous contemporary writer in the Chinese diaspora, often mentioned in conversation among Chinese intellectuals as a potential candidate for the Nobel Prize,' said Kuo-Ch'ing Tu, a UCSB professor of Taiwan studies and co-editor of Taiwan Literature, published by the Forum for the Study of World Literatures in Chinese at UCSB.
Three of Pai's handwritten drafts for his novel Crystal Boys — he was meticulous about rewriting, and actually revised the novel five times — are part of a newly digitized UCSB Library collection of his works that also includes his short stories and prose, a total of 57 manuscripts comprising 2,644 pages. Crystal Boys, published in 1983, is the first Chinese fictional work to address gay culture.
Retired from teaching but still active as a writer and arts advocate, Pai is one of the most-translated contemporary Chinese authors in the world, and a founder of the influential Chinese literary magazine Modern Literature.
Describing the importance of preserving Pai's work, Cathy Chiu, former East Asian Studies Librarian at UCSB Library, and a key contributor to the digitization project, said Pai is "almost like Ernest Hemingway in Chinese literary circles."
Michael Berry, a professor of contemporary Chinese cultural studies at UCLA, during a weeklong celebration of Pai's work at UCSB in 2017, said the author has made "an indelible impact on the cultural life of Chinese people both in mainland China and Taiwan, Hong Kong, and overseas."
Scholars "come to UCSB from all over to see the Pai collection, whether they're studying Chinese politics or society or literature," Chiu said. The digitized items — just part of the entire collection of his works held by the Library's Special Research Collections (SRC) — open up his materials to scholars who can't make the physical trip to UCSB.
In 1997, Pai, who lives in both Santa Barbara and Taiwan, donated an extensive archive of his works to the UCSB Library that includes manuscripts of his novels and short stories in Chinese and English; videos, photographs, and posters from film and theater adaptations of his works; correspondence; and academic articles.
Amy O'Dowd, a UCSB Library donor and Pai supporter, said the digitized transcripts "provide a great opportunity for students, scholars, and the local community to understand and have access to Dr. Pai's renowned literary works … and the huge impact and influence he has had on modern Chinese history."
Pai, born in Guilin, China, in 1937, is the son of a prominent general in the Chinese Nationalist government. His family moved to Hong Kong and then Taiwan after Chinese Communists took over the mainland in 1949.
He studied English literature at National Taiwan University and earned an M.F.A. from the Iowa Writers' Workshop at the University of Iowa in 1965 before coming to UCSB.
His works reflects the lives of those, like his family, who retreated from mainland China to Taiwan after World War II.
"He is a witness of that generation," said Chiu. "He had real-life contact with people in that circle, and actually observed how they lived."
In addition to his skill as a writer, Chiu said, what comes across in Pai's works is "his compassion. The way he describes characters, you feel like he really has compassion toward not just aristocrats, but all classes."
Other universities approached Pai about donating his manuscripts and other materials, he said, but he chose the UCSB Library out of loyalty to the University and because he believed the collection would be "in very good hands with the Library. It's a relief to me that it is so well organized and cared for, and can serve as an academic resource for students and researchers."
Pai said he recently received a phone call from a Ph.D. candidate in China who is writing his thesis about one of Pai's works and wanted to view English translations of his novels and short stories. "He was overjoyed to receive the link [to the digitized collection] as this was a great help to him," Pai said.
Pai hopes students who study his work will gain better understanding of the historical background and social turmoil in Taiwan since 1949.
"I think my work is a reflection of the refugee experience of the many people who fled to Taiwan and started a new life there," he said. Plus, "most novels and fiction written at this time also did not include gay themes."
The title of his novel Crystal Boys refers to the former gay culture in Taiwan called the "glass community," and the individuals who were part of that community, called "glass boys" or "Crystal Boys." Some of his short stories addressed gay themes as well.
Most of the materials in the digitized collection, focused mainly on Crystal Boys and Pai's short story collections Taipei People and New Yorkers, are in Chinese. Some of the English-language items include letters and notes from editors and translators of Pai's work.
What can scholars glean from an original handwritten manuscript? By observing crossed-out words, comparing revisions, and studying different endings and dialogue changes, they can gain further insight into an author's mind, motives, and writing process.
The manuscript for one digitized short story by Pai, for example, includes an editor's explanation for changing the translation of the title from "A Sky Full of Blazing Stars" to "A Sky Full of Bright, Twinkling Stars," a modification that potentially alters the meaning and symbolism in the story. 
Looking back on his handwritten manuscripts, Pai said he kept revisiting his seminal novel because "I was not satisfied and thought I could still improve the text. I guess I am fastidious about my work."