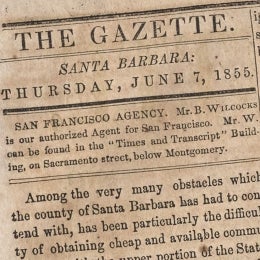 The UC Santa Barbara Library has digitized 104 issues of Santa Barbara County's first newspaper, The Santa Barbara Gazette, making them publicly accessible online. The issues can be viewed via the Library website. 
Published in Santa Barbara from May 24, 1855 to May 15, 1857 by W.B. Keep & Co, The Gazette was produced weekly and had a section in English and another in Spanish, though the Spanish portion was not a direct translation. The Spanish section was discontinued after 1855 because there weren't enough Spanish-speaking subscribers to make it profitable.
According to local historian Jim Campos, it was the only newspaper in Santa Barbara County until 1868 with the establishment of the Santa Barbara Post. And at the time, the county was much bigger, stretching from the San Luis Obispo county line south toward the San Fernando Valley.
"The Gazette provided the only regularly published news in the Santa Barbara area until newspapers became more commonplace in the 1870s," said Campos. "This paper is one of the only resources we have that may shed light on issues and activities that took place during that huge historical gap."
The paper covered national and international affairs, as well as state and local politics and events in Santa Barbara and the surrounding region, showing what life was like just five years after the incorporation of the City of Santa Barbara and California Statehood in 1850.
Within the first issue, the publishers W.B. Keep and R. Hubbard, declare that the newspaper will be entirely neutral in politics. They then call Anglo-Saxons a "race of plunderers" in the same issue.
"Although The Gazette had a short run, its content reflects the transition period in Santa Barbara as it was evolving from an area of predominantly Spanish-speaking Californios to an Anglo majority," said Michael Redmon, a historian at the Santa Barbara Historical Museum. "This is the period of some of the first challenges to the traditional power bases in the city's political and judicial systems. A political shift had begun and tensions in town were high."
The issues were reproduced from a bound presentation copy given to the Santa Barbara Public Library by Charles Fernald in August 1891. Fernald served as sheriff, district attorney, county judge, and mayor of Santa Barbara in the late 1800s. The Santa Barbara Public Library gifted the issues to the UCSB Library Special Research Collections in September 2019.
"We are glad to be the new steward of this important piece of Santa Barbara history," said Zachary Liebhaber, archival processing specialist at UCSB Library's Special Research Collections. "It was important to us to digitize The Gazette issues to ensure ease of access and public availability."