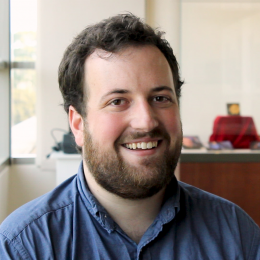 ​Meet Stewart Engart
Since the UCSB Library launched a project in 2002 to record and digitize its Cylinder Audio Archive, the archive has grown to become the largest online collection of downloadable historic sound recordings. 
This work to preserve the earliest commercial form of recorded sound and make it broadly available to download or stream for free wouldn't be possible without the help of dedicated students like Stewart Engart.
Engart is a third-year Ph.D. Candidate in Musical Composition at UCSB who works as a Cylinder Audio Engineer in the Henri Temianka Audio Preservation Lab, housed in UCSB Library Special Research Collections.
He has been working in the Library audio preservation lab since starting his doctorate and in that time, he has digitized thousands of sound recordings from the Library's collection of 19,000 audio cylinders.
First invented by Edison in 1877 and made of tinfoil, then commercialized as hollow wax or plastic cylinders about the size of a soda can, cylinders were the earliest recording medium. Production continued until 1929 when shellac gramophone records won the "format war" and phonograph cylinders stopped being recorded and sold.
Though cylinders went out of production long before Engart was born, they have been a part of almost his entire life. Growing up in the Blue Ridge Mountains of North Carolina, he and his siblings would listen to his grandmother's cylinder collection of old-time mountain music when they went to visit her. 
"It was probably some of my first exposure to music," said Engart, who has been playing piano, accordion, and organ for much of his life.
Now, Engart spends up to 20 hours a week listening to the cylinders. "It has affected my composition work. I've created quite a few works based on cylinders where they are the sole or primary sound source."
Becoming an Expert in Audio Digitization
All that time spent in the Audio Preservation Lab cleaning, restoring, digitizing, transferring, cataloging, and creating metadata for the files has made Engart an expert in the digitization process of audio cylinder recordings. 
"The creator, designer, and manufacturer of the cylinder digitization player has used me as a reference for updating his models and his workflows," said Engart. "He says that besides him, I've probably used the machine more than anyone else in the world."
Preserving the Earliest Form of Recorded Sound
Having people at the Library who know how masterfully use the cylinder digitization player is critical when the team is up against wear on the cylinders that comes with time and can cause recordings to be lost forever.
Many of the cylinders still around today have mold damage or cracks. Even the audio cylinders stored in the ideal conditions of the archive are susceptible to damage if played repeatedly or incorrectly.
"It's called a wax cylinder, but the material is closer to a soap really. The audio is engraved as grooves that can be played by a needle and with such fragile material, there's the potential for damage with each play," said Engart.
That's why the Institute of Museum and Library Services, the Grammy Foundation, and many other donors have supported UCSB Library's efforts to preserve these unique recordings and make them accessible for generations to come.
UCSB's Cylinder Audio Archive
Their donations have resulted in the robust UCSB Cylinder Audio Archive, a searchable database that features all types of recordings made from the late 1800s to the early 1900s, including popular songs, vaudeville acts, classical and operatic music, comedic monologues, ethnic and foreign recordings, speeches and readings.
"One of the best parts about this collection of cylinders is that we have quite a few early home recordings, and so these are fleeting moments that are from really intimate moments of peoples' lives that are over 100 years old," said Engart. 
In fact, it is the 650 vernacular wax cylinder recordings of the Library's cylinder collection that gained recognition from the Library of Congress when they were selected to be part of the National Recording Registry in 2015. They capture the early spirit of the public's interaction with recording technology.
"It's fascinating to see what people 100 years ago though was important enough to memorialize in wax because it was quite a difficult process," Engart said. "We really haven't changed that much in deciding what is worthy of being passed on."
If you share the view that these recordings are worthy to be preserved for the future, you can make a donation to the UCSB Library and adopt a cylinder, which ensures it will be preserved and made publicly accessible.