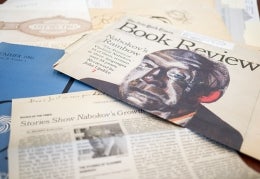 UCSB Professor Emeritus D. Barton Johnson's academic biography describes him as "a leading figure of Nabokov studies for many years."
Zoran Kuzmanovich, president of the International Vladimir Nabokov Society, begs to differ.
Johnson "was not a leading figure. He was and still is absolutely the central figure of Nabokov studies over the last four decades," Kuzmanovich said during a Nabokov symposium at UCSB last year. The event was held in honor of Johnson, a retired Department of Germanic and Slavic Studies professor.
Johnson, who has already donated his academic papers to UCSB Library's Special Research Collections (SRC), will also donate more than 2,500 books from his personal collection to the Library.
The professor's recent donation includes books about literature, art and history, with an emphasis on Russian literature and language, including a significant number of works about Russian-born American novelist Nabokov, author of Lolita. The donated materials are in Russian and English.  
Johnson himself is the author of books including Worlds in Regression: Some Novels of Vladimir Nabokov (Ardis, 1985) and Transformations and Their Use in the Resolution of Syntactic Homomorphy (Mouton, 1970).
He's also written numerous articles on Nabokov, Sasha Sokolov and other Russian modernists for literature, linguistics and Slavic studies journals. He served as president of the International Vladimir Nabokov Society, and created NABOKV-L, an electronic discussion forum based out of UCSB, in 1993, the same year he founded the print journal Nabokov Studies.
Johnson, speaking through his wife, Sheila, when asked how long he had been collecting the books he is donating, replied: "a lifetime."
The professor donated his books to the UCSB Library "to make them available to other scholars," he said.
The donation will "augment an already impressive array of materials related to Nabokov in the general and Special Research Collections," said Sara Pankenier Weld, assistant professor of Russian and Comparative Literature in UCSB's Department of Germanic and Slavic Studies.
The Donald Barton Johnson Papers in UCSB Library's SRC comprise research, correspondence and works of literary criticism — especially related to Nabokov and Sokolov — that Johnson compiled throughout his career, including correspondence with Nabokov's wife.
Weld and her colleague Sven Spieker co-organized the February 2016 symposium at UCSB, "Nabokov's Idioms: Translating Foreignness."
"When I met Don personally soon after my arrival at UCSB in 2012," Weld said, "I was struck … by what a wonderful, multifaceted and generous person he is, and a delightful conversationalist on a wide range of topics, from Nabokov to Sokolov to cryptography and ornithology."
His donation to the UCSB Library, Weld said, "reflects that same scholarly generosity we all appreciate."