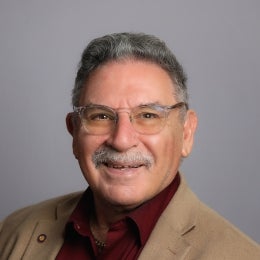 A Time Capsule of the Jewish, LGBTQ+, and Academic Communities in Santa Barbara, 1962-1994
Retired UC Santa Barbara lecturer and alumnus ('77) Mashey Bernstein has kept a journal since he was 16 years old. What began as an outlet for self-exploration evolved into a decades-long practice that not only highlights his life experiences as a Jewish man in the LGBTQ+ community, but also captures the changing social and academic landscape at UCSB and Santa Barbara at large. In winter 2022, Bernstein donated his journals to UCSB Library's Department of Special Research Collections, as part of the Santa Barbara History Collection.
Born in Dublin, Ireland, Bernstein grew up in an Orthodox Jewish family, where both his father and brother were rabbis. He knew he was gay at age 16, at which point keeping a journal became his outlet for personal discovery and reflection. "Ireland was still very religious at the time," he explained, "and it wasn't easy being gay in an Orthodox family. I needed somewhere to explore and express myself. Initially I wrote every day, then it became once a week. The entries would include long personal discussions along with the things I did or the people I saw that week."
He continued to document his life throughout his undergraduate career at Trinity College Dublin, where he studied English Literature. In 1971, he received a scholarship to attend UCSB, where he completed his master's and doctorate degrees in Jewish American Literature under the guidance of Professor Larry Wilson. During this time, Bernstein co-founded the Gay Students Union, one of the first LGBTQ+ organizations at UCSB.
"At the first meeting, we had about six people," he reflected. "From there, it built into a group with regular meetings, guest speakers, and a dance that over 100 people attended that lasted 4-5 years. I was stunned that there was nothing at UCSB [like the Gay Students Union] before I got there."
After graduating from UCSB, Bernstein moved to Kansas City to run a Hebrew school for ten years. In 1990, he decided to return to academia and moved back to Santa Barbara to become a lecturer in the Writing, Religious Studies, and Film Studies Departments at UCSB, retiring in 2015. In 1991, Bernstein and his neighbor – another gay man – started a book club that focused on gay and lesbian experiences. The club evolved into the Santa Barbara Lesbian and Gay Film Festival at the Victoria Theater in downtown Santa Barbara, which Bernstein organized for 20 years. After his successful leadership of film festivals, the organizers of the Santa Barbara Jewish Film Festival approached Bernstein and asked him to take charge. Bernstein accepted and led the festival for three years until his tenure was cut short by the Covid-19 pandemic.
Bernstein believes that the level of acceptance he felt in the Jewish community was uncommon when he came out during the height of the AIDS epidemic in 1985 at 40 years old. At the time many of his friends in the LGBTQ+ community were not accepted by their families or society. "I am president of my synagogue. Everyone knows I'm gay; my family knows I'm gay; my parents wrote me the most beautiful letter accepting me. I don't think they realized how rare that was."
His experience as a Jewish man in the LGBTQ+ community is intimately discussed in his journals. Zach Liebhaber, a librarian from the UCSB Special Research Collections, found journal entries including the only known documentation of a controversial 1979 gay trip to Israel, a deep look into Bernstein's personal experiences during the AIDS pandemic, and an earnest account of academic life at UCSB in the 1970s to be invaluable for the UCSB SRC.
In the Writing Program, Bernstein has created a new scholarship that challenges students to use his journals as a guide to write a creative piece. Applications will be accepted in March and awards will be made in June. The winners of the $1,000 prize have a year to create their work. The first winners will be announced at a presentation in May 2024. "None of this would have happened without Zach and his interest in these raw accounts of life from 1962-1994," Bernstein reflects.
Bernstein hopes his journals will serve as a time capsule and an inspiration for others to begin journaling. He advises people who want to start a journal to write consistently about their thoughts or where they went and who they met. He urges people not to discard their work. "You don't know what the future is going to hold," cautions Bernstein. "I wrote my journals for myself. What you believe is not going to be important might one day be very important."