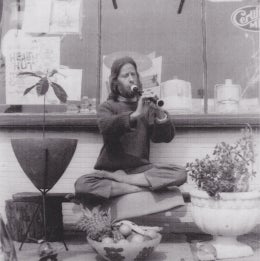 Each year, the Kenneth Karmiole Endowed Research Fellowship program invites scholars from around the world to apply for a unique one to three months opportunity to pursue research, using primary source materials only available at UCSB Library's Special Research Collections. 
Collections available for fellowship-supported research include rare books, journals, manuscripts, archives, printed ephemera, photographs, audiovisual materials, maps, recordings, and other items. 
The 2020 Kenneth Karmiole Endowed Research Fellowship was awarded to filmmaker and scholar Brian Chidester, to research materials in the Bob Bertram Collection relating to Eden Ahbez for support in a feature-length documentary about Ahbez's musical career, which first came to Chidester's attention in the mid-1990s. 
Among youth in the 1990s, there was a revived interest in lounge music, swing, surf music, rockabilly, exotica, and burlesque. It was during this revival that a rare 1959-60 album titled "Eden's Island" by Eden Ahbez gained visibility, which had originally sold only 100 copies when it was first released by Del-Fi Records in the early 1960s. It was reissued in the mid-1990s on CD for the first time and sparked an underground, or "cult" interest in Ahbez. 
Ahbez, who was also the composer of the jazz standard "Nature Boy," focused on universal love, anti-materialism, ecology, and living close to nature. Chidester believed the themes of Ahbez's music spoke as much to current times as the times in which he wrote his music, a sentiment that ultimately inspired Chidester to create a film about him.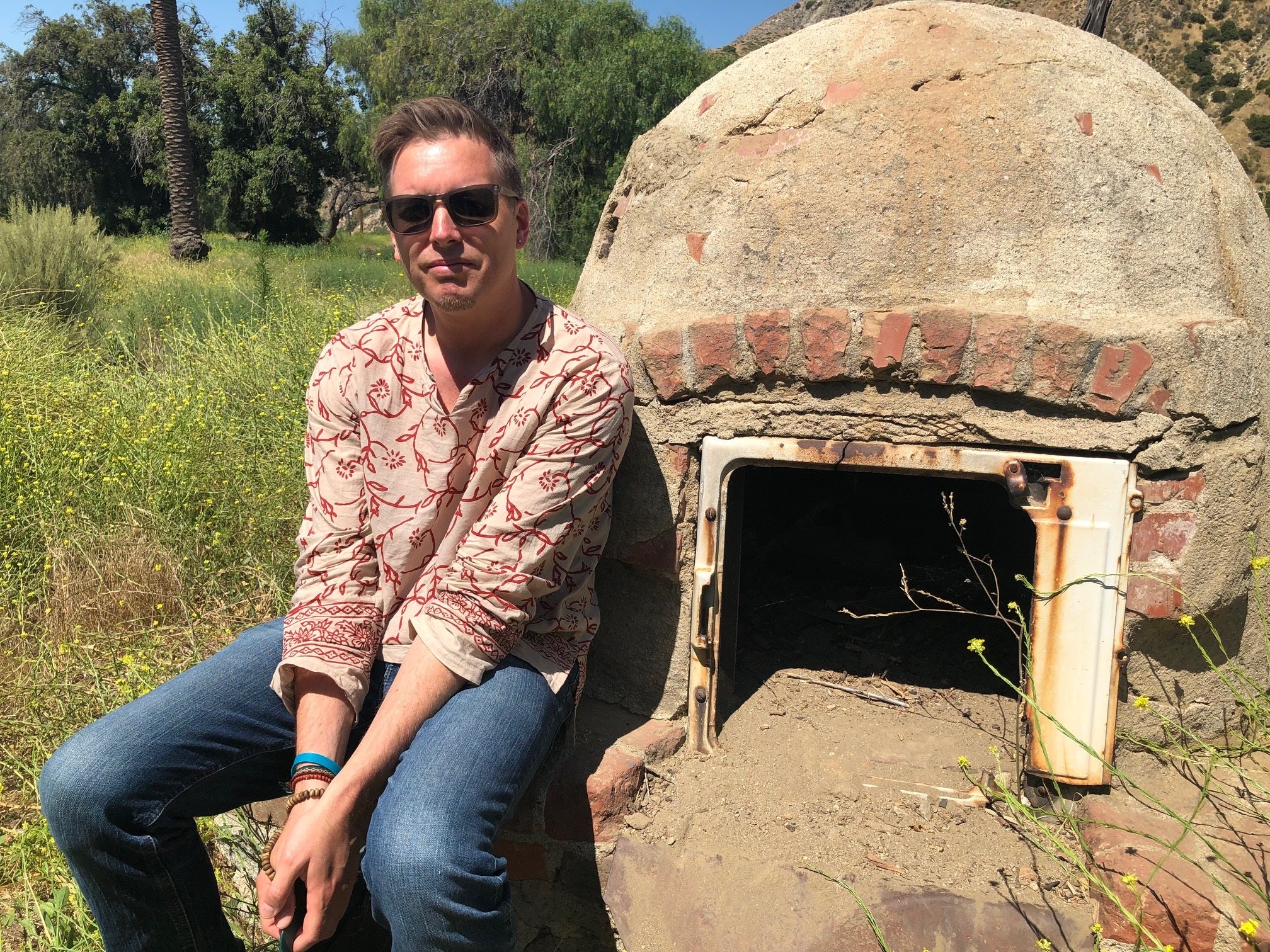 As a trained documentarian and art historian, Chidester likes to wait for his subjects to "tell" him how he should present them. The music of Ahbez was so pictorial in its outline that he felt it was "practically begging to be married to images on a screen." That was the deciding factor in creating a film rather than a book or exhibition of Ahbez's work. In order to do this, he needed access to the Bob Bertram Collection containing scores, recordings, photos, and other materials related to Ahbez. 
Chidester describes the UC Santa Barbara Library archives as essential to completing his project. Like many musicians, Ahbez worked collaboratively with musicians, engineers, and producers. Bob Bertram, whose archive of papers and recordings now resides at the UC Santa Barbara Library Special Research Collections, was one of the collaborators with whom Ahbez worked with the longest. They recorded over thirty titles together, roughly dating from 1949 to 1964, and Bertram's archive contains many reel-to-reel tapes of Ahbez's songs which Bertram produced. The archive also includes sheet music scores written by Ahbez or co-written by Ahbez and Bertram, plus photos, news clippings, and other assorted paperwork. 
Chidester enjoyed the experience of discovery in the archive, particularly in finding test pressings of two unreleased Ahbez songs, "Fate" and "The Western Lands," both copyrighted 1953 and considered lost for many years. Being able to visualize the creative process of Bertram and Ahbez, and recognizing themes and recording material that seems to be directly tied to the creation of the "Eden's Island" album gave Chidester an incredible amount of insight to Ahbez and necessary content for his project. 
Chidester explains, "The Bertram Archive thus serves almost as a window onto the creative process and even as a kind of manual on what goes into the creation of complex music and storylines." 
There is only one other archive related to Ahbez which is as extensive as the Bertram Collection, and that is the archive Ahbez maintained and ultimately left to his last collaborator, Joe Romersa, with whom Ahbez worked together from 1987-1995. The Romersa Archive contains Ahbez-related materials from about 1965-1995. When Ahbez died in 1995 he left Romersa his papers, master tapes, and other materials. 
Chidester and his research partner John Winer were able to visit Romersa, who decided to donate all of his Ahbez materials to the UC Santa Barbara Library Special Research Collections. This new material makes UC Santa Barbara Library the largest source for archival material related to Ahbez and is an additional highlight to the impact of the Kenneth Karmiole Endowed Research Program. 
This award is funded by an endowment established by Kenneth Karmiole, an internationally-renowned antiquarian bookseller who earned his bachelor's degree in History from UC Santa Barbara.  He made previous gifts to the UCSB Library for rare books and manuscripts and has owned and operated Kenneth Karmiole, Bookseller since 1976.
Karmiole established the fellowship to promote discovery and enable innovative scholarship using primary source materials. 
For Karmiole, Chidester's enthusiasm about the fellowship experience is a prime example of how archival materials can shape the future of research. "Brian Chidester's important research project with UCSB's archival collections is exactly how I hoped this fellowship would be used, " says Karmiole. "His documentary film will make people more aware of the great holdings in the library's Special Research Collections Department".