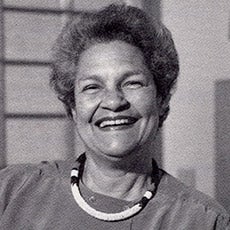 Shirley Graves Kennedy was a passionate activist, a dedicated educator and a devoted wife and mother. A product of the civil rights movement, the former lecturer in the UC Santa Barbara Department of Black Studies turned her considerable energy toward bringing people together on- and off-campus to fight for social justice and make the community a better place for everyone.
Kennedy died in 2003, after decades of learning and teaching at UCSB. But her vision and leadership live on, embodied in the UCSB Center for Black Studies Research (CBSR), where she served as Cultural and Community Affairs Cultural Coordinator from 1996 to 2003, and in the hearts of the community whose lives she touched in a multitude of ways.
The community is receiving her gifts still today. The Kennedy family, working with CBSR, has donated the Shirley Kennedy Papers to the university. They will be housed at the California Ethnic and Multicultural Archives (CEMA) at the UCSB Library and be made available to those who want a glimpse of the inner workings of the progressive, multifaceted woman.
"We are so happy and delighted to have them going to the library," Royal Kennedy Rodgers, one of Shirley Kennedy's four children, said of the papers during a special event at CBSR in UCSB's South Hall.
"They're home," Colin Kennedy, Shirley's son, said of the papers.
"It is a very special and meaningful honor for our campus to receive this extraordinary gift of the Shirley Kennedy Papers," UCSB Chancellor Henry T. Yang said at the gathering. "Dr. Kennedy was a beloved member of our UC Santa Barbara family for more than three decades. She was a wonderful teacher and mentor who played a vital role in the establishment and growth of our Department of Black Studies. She was also a passionate advocate for social justice and civil rights. We remember her as a person of tremendous integrity and spirit. Whatever Shirley did, she poured her whole heart and intellect into it."
Excerpted from an article by Sonia Fernandez which appears in full in UCSB's "The Current".