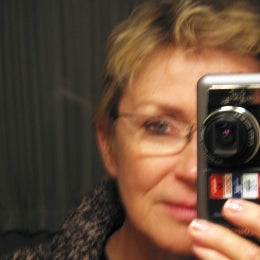 In 2018, conceptual artist RT Livingston gifted her extensive collection of artwork and related materials to the UC Santa Barbara Library's Special Research Collections. Livingston's body of work, primarily inspired by human relationships with the environment, ranges from photography and videography to large-scale installations, painting, and music. One hundred of her photographs and a video are presently featured in the online Library exhibit 9/11 RENEWAL/REBIRTH.
Livingston received her undergraduate degree in Fine Arts from Daemon College in Buffalo, NY where her first painting instructor, Elizabeth Murray, influenced her by the force of her commitment to the creative process. Livingston's educational journey continued into the 1970s when she pursued graduate studies in Art History at Rutgers University and the History of Photography with Peter Bunnell at Princeton.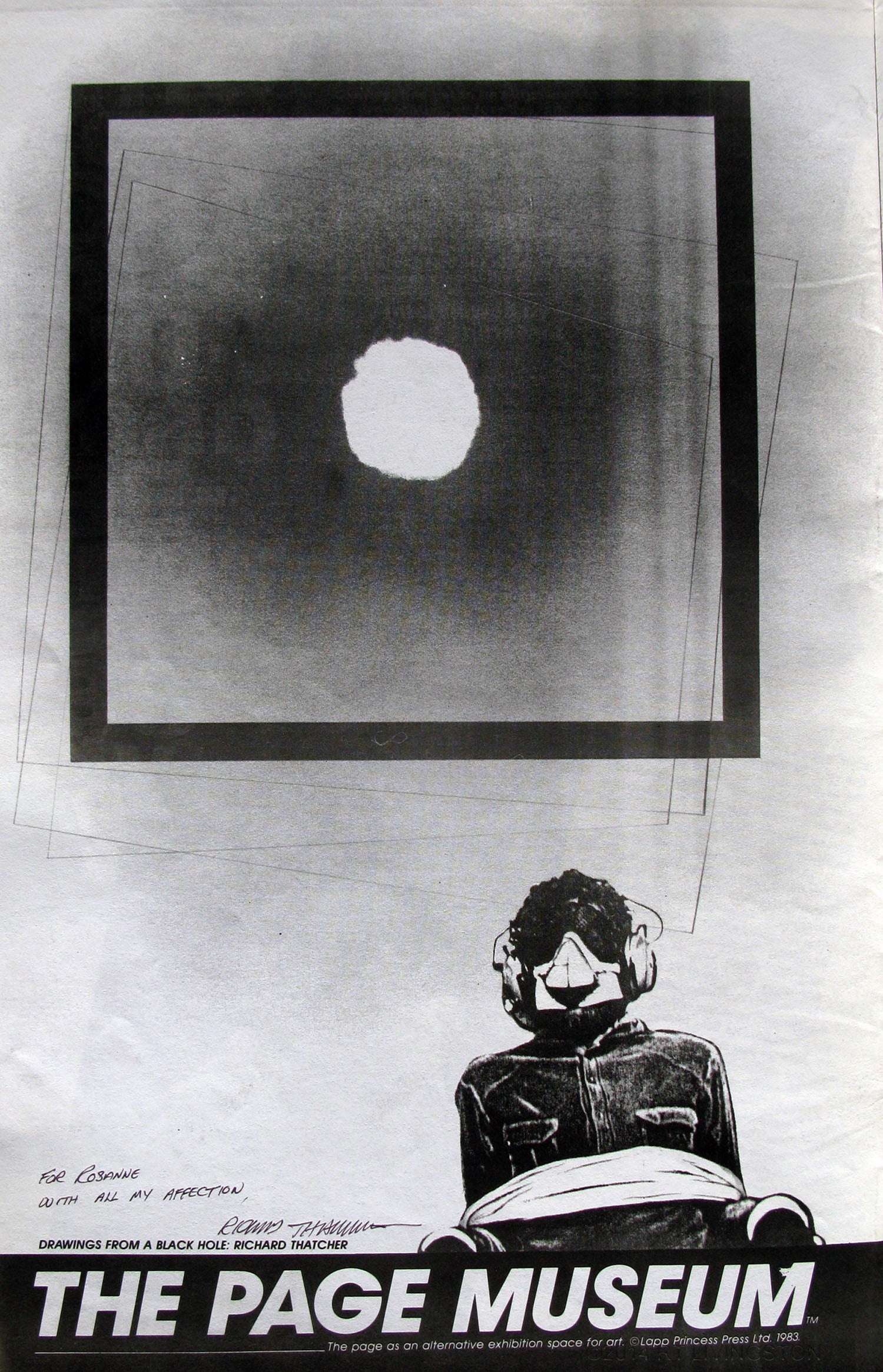 She completed a Master's and a Ph.D. ABD (all but dissertation) from Rutgers, where her research focused on American artist David Hare, known for his association with European Surrealists and as one of the founders of the New York School. 
Hare had a profound influence on Livingston. "David never understood why I wasn't making art," she said. "He gave me the courage to commit myself to the artist's life of uncertainty."
Her ten years of detailed research on Hare are now part of the Library's Special Research Collections.
Livingston also worked as a curator at Rutgers Zimmerli Art Museum, curating their groundbreaking 1976 exhibition Photographic Process as Medium. 
Before moving to Santa Barbara in 2006, Livingston spent over 30 years creating art from her SoHo, Tribeca, Springs East Hampton, and Woodstock, NY studios. When identifying key influences, Livingston points to Marcel Duchamp, the great absurdist provocateur, as her 'art god'. 
"He gave me permission to create whatever I deem necessary to get my point across," she explained. Language and symbolism are also always at play in her work, as is the desire to collaborate with other artists. Her methodology is inspired by both Shakespeare's phrase, "All the world's a stage," and Marshall McLuhan's dictum, "The medium is the message." 
In her interview with Lum Art Magazine, Livingston explains, "My art is all about survival. It goes from the sublime to the ridiculous, commenting on life and the human condition along the way." 
During the late 1970s to early 1980s, she owned and ran Lapp Princess Press, stemming from the belief that publishing can be an art form in itself. The Press published books by Chuck Close, Elizabeth Murray, Sylvia and Robert Mangold, James Rosenquist, William Anastasi, and others.
Livingston also had the opportunity to use advertising platforms as performance space, with her performance character "Her Serene Highness, the Lapp Princess," appearing a number of times in Andy Warhol's Interview as well as the new art and fashion-oriented Island Magazine. Her desire to democratize art had its roots in publishing, especially through "The Page Museum: An Alternative Space for Art," which she founded in 1983.
During this time, Livingston's career took off. She became involved in several organizations and boards of directors, including the Producers' Council for the Brooklyn Academy of Music's newly instituted Next Wave Festival, where she served as a charter member, and Franklin Furnace, a Lower Manhattan creative landmark. She was also featured in several shows, including her first New York show at the Stewart Neil Gallery, organized by Peter Frank, followed by another with the Fluxus art community. 
In 1983, the Institute for Art and Urban Resources—also known as PS1 and now part of the Museum of Modern Art in New York— hosted Livingston's COLOSSAL PORTRAITS solo exhibit and the soundscape INVITATION TO TRANSMIT: DAH DI DAH based on Morse Code.
The COLOSSAL PORTRAITS, shown below, were based on sixteenth-century mannerist sculptures whose proportions are one and a half times larger than life (hence the name). The exhibition was a prime example of Livingston's frequent references to art historical methodology seen throughout her oeuvre.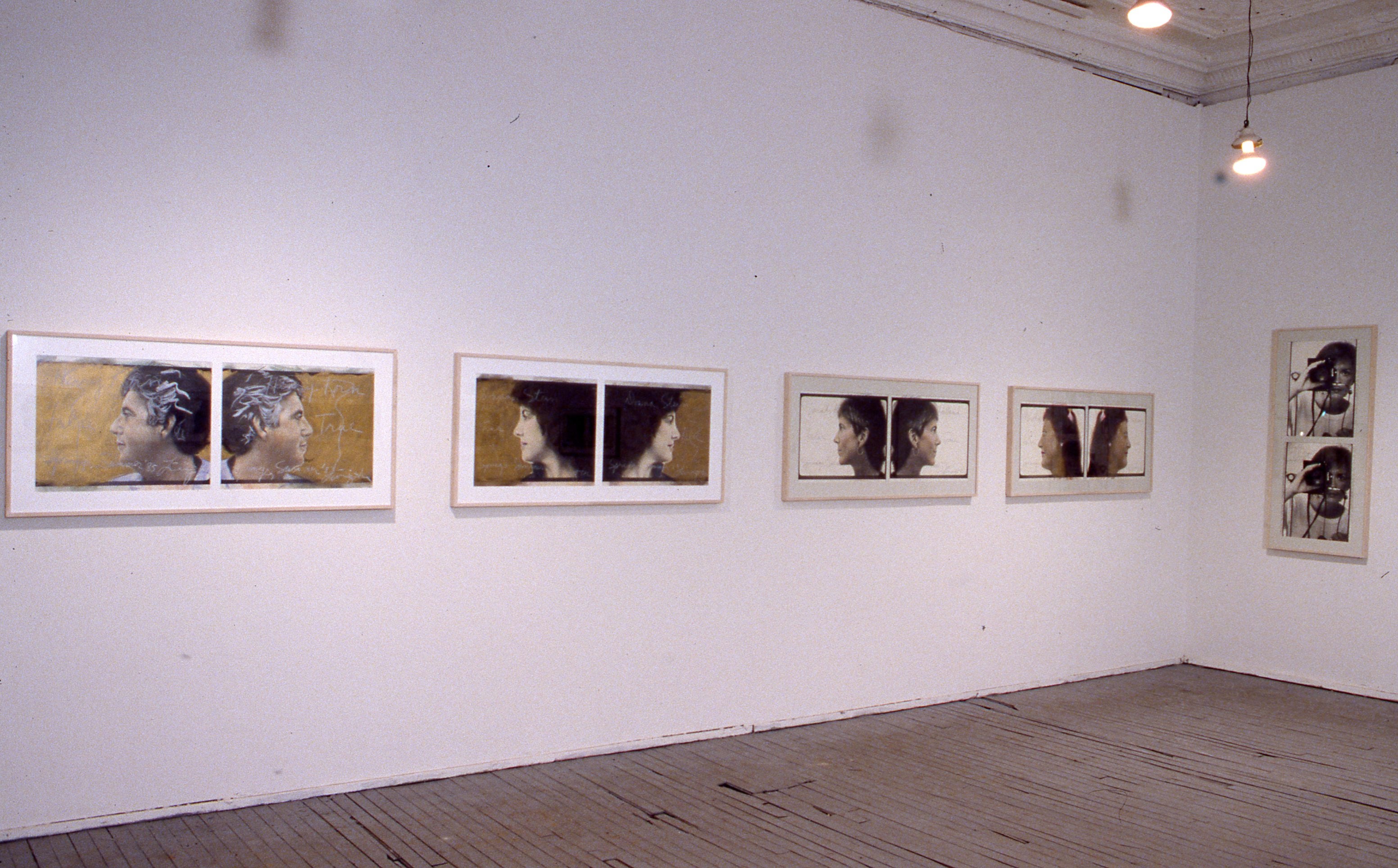 Over time, performance became increasingly integrated into her creative output. In the mid-1980s, Livingston, Lloyd Allen, and Mitch Watkins formed the experimental musical trio THE LAW, and became featured on MTV. In 1986, the Guerrilla Girls—an anonymous group of female artists devoted to fighting sexism and racism within the art world—invited Livingston to be part of their extravaganza at the Palladium in Lower Manhattan by projecting Livingston's video/sound work onto a 20-by-30-foot screen. Additionally, in the late 1980s, Livingston turned her attention to acting, as seen in her co-starring performance as Lena in THE CONTORTIONIST, the first film by Oscar-winning director Juan Jose Campanella.
The 1990s through the early 2000s saw many more of Livingston's collaborative works, including the five-year piece of performance art with her creative partner Nancy Mitchell. As Sprocket Art & Co., Inc., they "imitated the corporate world in order to enter it." 
Sprocket Art & Co., Inc. was a legitimately recognized New York State corporation with which Livingston and Mitchell could get their "Dada-based art objects" out into the real world using unconventional media, such as their ON THE FLY boxer shorts.
"Our goal was to break through the exclusive art world coterie and make art affordable to all," Livingston explained. The "Sprockets" gained national recognition in 1994 for their 4-month performance, TRADE WHAT TRADEMARK. 
Livingston traveled to California in 2003 to create two art installations, one in the Mojave Desert, the other in Santa Barbara. Her piece CHAIN/LINK in the Mojave was inspired by the myriad of memorial fences in New York where mourners expressed their grief after the horrific attacks on September 11, 2001.
Livingston philosophizes about the piece in Lum Art Magazine: "We are either chained or linked together. The enclosure is either a cell or a sanctuary. You choose."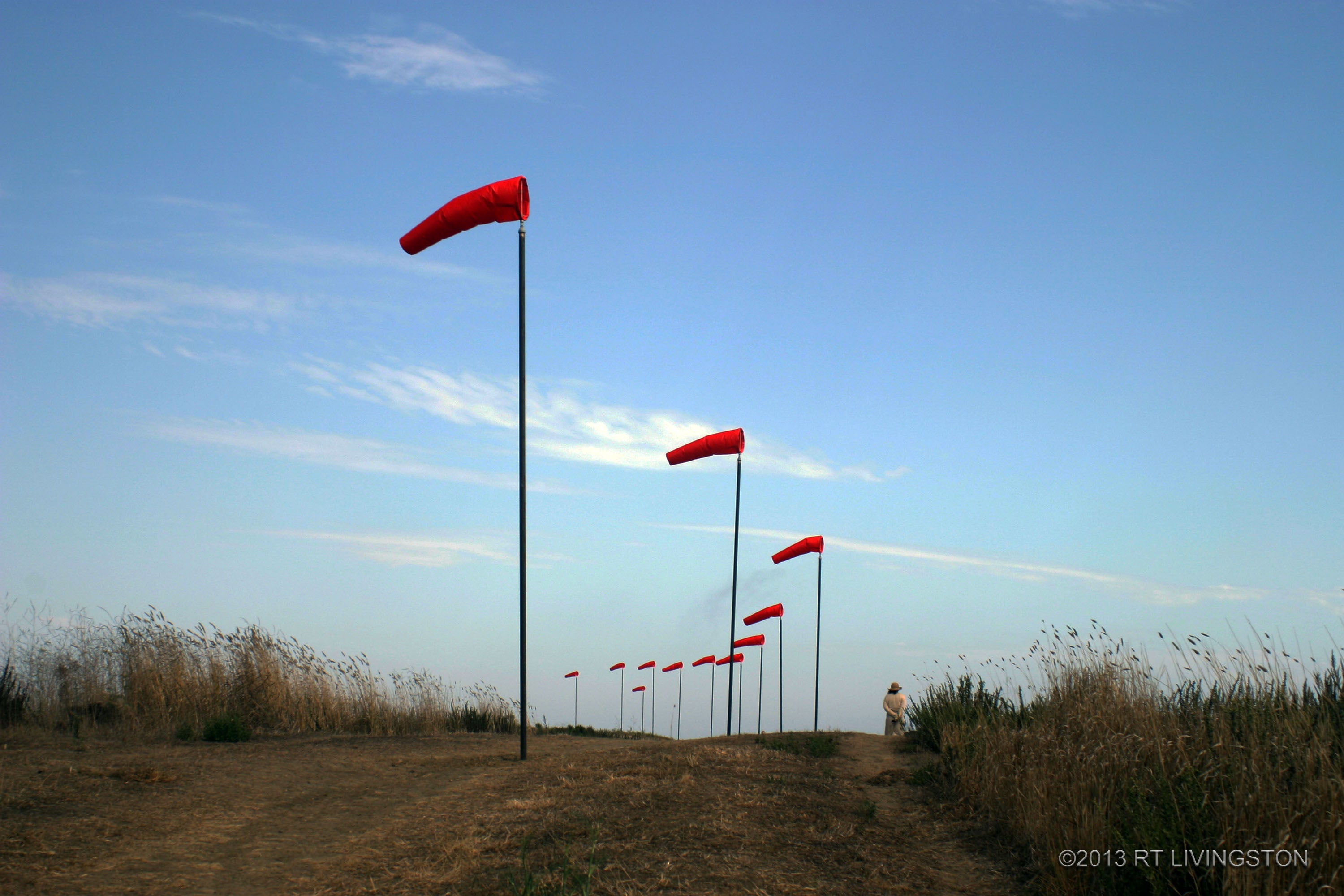 That same year, WINDSOCK RIDGE, in the photo above, was installed along the promontory overlooking Elings Park and Hendry's Beach in Santa Barbara as a tribute to the 100th anniversary of the Wright Brothers' first flight. Sixteen commercial windsocks, each colored the 'international orange' commonly used in the aerospace industry, highlighted the underutilized potential of wind energy. 
That same year she installed WINDSOCK ZIGZAG between the Manhattan and Brooklyn Bridges in New York and WINDSOCK GRID on the Hudson River in Kingston, NY. Two years later she installed WINDSOCK CURRENTS at Crissy Field overlooking the Golden Gate Bridge in San Francisco.
Livingston's Santa Barbara installation WINDSOCK RIDGE provided the setting for her collaborative video, titled I COULD SING WALTZES FOR YOU, with Robin Bisio and Headless Household made in 2003 and shown at the 2005 Santa Barbara International Film Festival (SBIFF). Livingston and Bisio's second collaboration, 1 DANCE 2 SEA, was also shown at the SBIFF in 2006.
Now residing permanently in Santa Barbara, Livingston's latest output includes the painted series: THE CiC: I draw the line where the water meets the sky, PETRIFIED TRUNKS, IMPOSSIBLE/CRUCIAL and EXPOSED.  Her ongoing HERD AROUND THE WORLD project, started in 2002 and shown below, is a global collaboration wherein six plastic farm animals travel the world, with their respective "HERDERS" searching for reality and the meaning of life.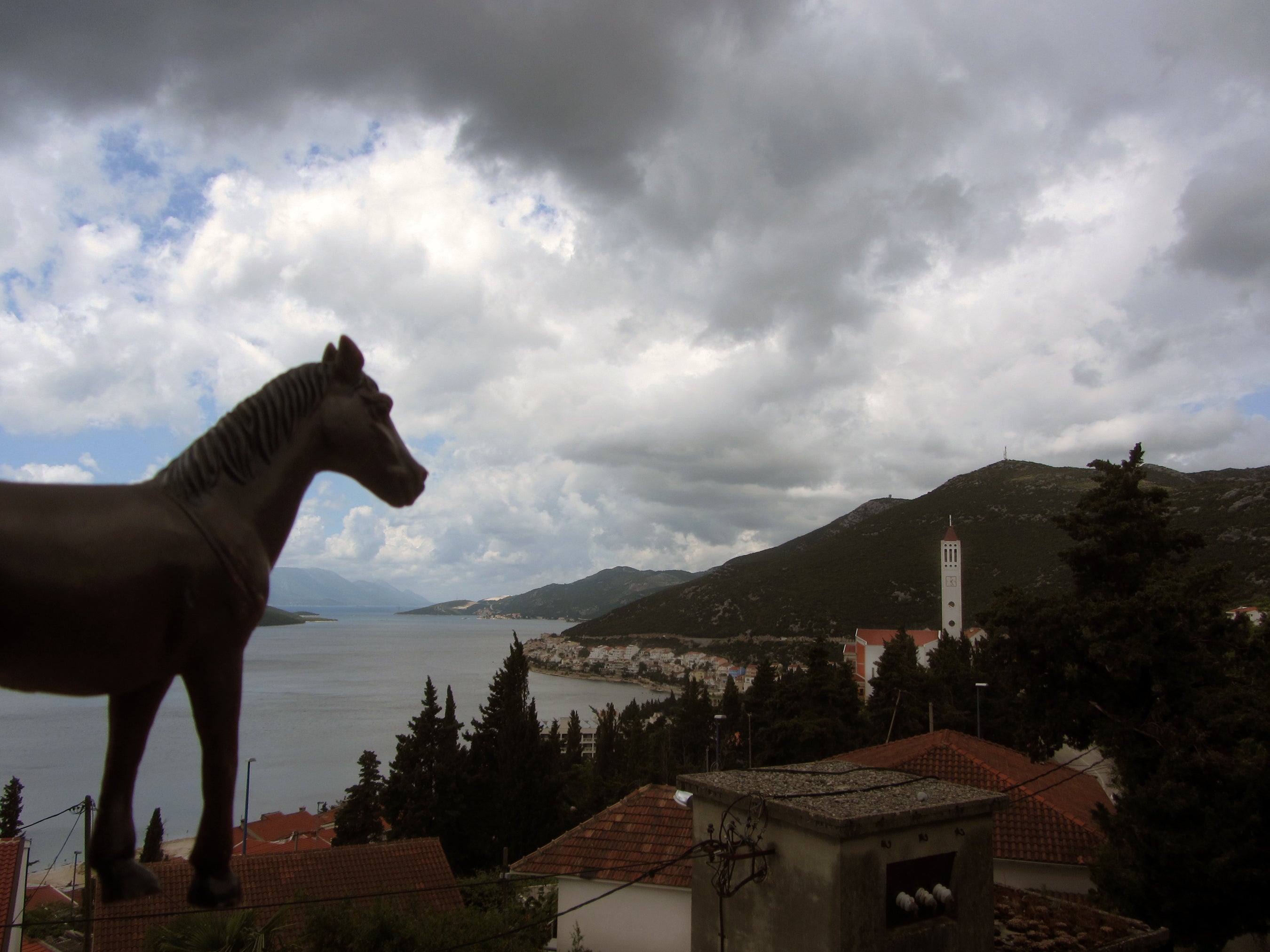 She continues to create other installations and soundscapes, such as her 2018 mournful postmodern ballad OH WE MOURN, chronicling the Thomas Fire and Montecito mudslides, which she performed at the Lobero Theater. Music and sound continue to play an important role in her oeuvre, and Livingston would like to work with other creatives in bringing her two rock operas, THE PURGATORIO and LAZAR to life.
"I've had a long, fascinating, creative life," she reflected. "I look forward to working with those ignited by this material. We have much to give one another. After all, if art is about nothing else, it's about communication. I am grateful to the UC Santa Barbara Library Special Research Collections for recognizing the value of my work."
In honor of her recent collection donation to the Library and to commemorate the 20th anniversary of the 9/11 terrorist attacks, the Library created an online exhibit titled 9/11 RENEWAL/REBIRTH featuring Livingston's eyewitness account of the year following the tragic events.
From late September 2001 until the first anniversary of 9/11 in September 2002, she documented the sad and painstakingly slow renewal and rebirth of Lower Manhattan, equipped only with a small Olympus Stylus Epic 35mm point-and-shoot camera as well as a small 8mm cassette Sony video camera. The exhibition includes 100 photos, 3 textual statements, and a compilation video documenting the rebirth of the area, all of which are part of the UC Santa Barbara Library's Special Research Collections.
Images:
Self-photo of RT Livingston. Credit: RT Livingston

Richard Thatcher in The Page Museum, Island Magazine. Credit: RT Livingston

COLOSSAL PORTRAITS at PS1, New York. Credit: RT Livingston

WINDSOCK RIDGE at Elings Park. Credit: RT Livingston

HORSE ENTERING BOSNIA, HERD AROUND THE WORLD. Credit: RT Livingston