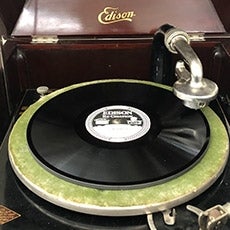 Henry Ford's Old Time Dance Orchestra, Teddy Roosevelt's 1912 campaign address and a how-to on sending and receiving Morse code. These are among the thousands of recordings Thomas A. Edison's record label captured on its "Diamond Discs."
A novel technology between 1912 and 1929, the discs were so named for the matching — and requisite — Edison phonograph record player fitted with a permanent conical diamond stylus. The discs encompass a range of audio material, from classical, country and ethnic music to comedy monologues and poetry and literature readings.
For more than a century, however, these recordings have been held hostage by an obscure format, which has rendered them silent.
But now, thanks to a $315,000 grant from the National Endowment for the Humanities, two UC Santa Barbara researchers will bring them into the 21st century through the Edison Disc Recording Access Initiative. Part of UCSB's Discography of American Historical Recordings (DAHR) program, the project involves digitally transcribing and editorially describing a large part of the celebrated American inventor's Diamond Disc recordings.
"Here's a body of our early 20th-century culture that's become trapped in this difficult format," said David Seubert, director of the UCSB Library's American Discography Project (ADP). The Edison discs were not as widely disseminated as were traditional shellac 78-rpm discs, he noted, and therefore aren't as well known by contemporary scholars or the public. The digitization process is especially critical because of the discs' fragility. For example, their dense cores are composed of a wood compound and exposure to moisture could cause irreversible damage.
"The UCSB Library is honored to be the recipient of this prestigious National Endowment for the Humanities grant," said University Librarian Kristin Antelman. "The library is proud of its commitment to preserving and protecting the historic recordings and making them available to the public through the National Jukebox."
Excerpted from an article by Jeff Mitchell which appears in full in UCSB's "The Current".