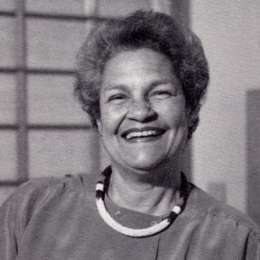 Dr. Shirley Kennedy's motivation to preserve her personal archives began with a flood of rare Southern California rain, which seeped its ruinous way into her materials documenting the 1998 UCSB visit of Regents Scholar Fan Shengqi, a Chinese jazz musician.
This loss stung for Dr. Kennedy, a UCSB Black Studies adjunct professor, who had completed two research trips to China to study the jazz scene, created a documentary featuring Shengqi, and even secured Shengqi's recognition as a Regents Scholar. His visit was the rewarding culmination of her years of effort.
Seeking to prevent further loss, Kennedy reached out to the UCSB Library to preserve her life's documentation and faculty papers, and strongly encouraged her colleagues to do the same. She contacted Sal Güereña, former Curator of the Library's California Ethnic & Multicultural Archives (CEMA), to discuss transferring her materials.
"The point is that important documents should not be in any individual's closets, or garage, or even office," Kennedy told Güereña. "All of us have archival materials. If some accident were to befall any of us, the person cleaning out our effects might not even recognize what is of importance, and what is not." 
As a result, in 2018 the UCSB Library University Archives established the "Shirley Kennedy Papers," a powerful collection containing correspondence, photos, notes, and other documents relating to Kennedy's life's projects, which largely centered around Black studies and activism in Santa Barbara.
Her archives also include the rest of her research on the Chinese jazz scene--fortunately spared from the flooding incident--which she had traced back to World War II-era African American soldiers, who brought with them to China the sounds of swing and bebop.
Kennedy's legacy began when she moved to Santa Barbara in the early 1970s to pursue her Bachelor's and Master's degrees at UCSB—after the age of 40—after which she went on to receive her Doctorate in Political Science and Government from Claremont University in 1985.
Upon her move to Santa Barbara, she discovered an African American community that faced discrimination in the arts, education, job sector, and housing.
She simultaneously became both student and activist, becoming heavily involved with these issues both on and off campus—usually combining the two—and was intent on exposing racial injustices while uniting people of various backgrounds. 
"Shirley was more of a 'change agent.' She believed the University had an obligation to the community and was a great proponent of that… For her, her activities were not limited to campus endeavors."
At UCSB she assumed several roles, including serving as Acting Director of the CBSR from 1982-83; lecturing as an adjunct faculty member in the Black Studies Department from 1987-2003; assuming the role of community liaison for the CBSR from 1996-2003; and creating what is now known as Black Culture Week at UCSB.
Kennedy also established her legacy within the Department of Black Studies through the creation of the Kennedy/Graves Award, an endowment named in honor of her mother, Ione H. Graves. The award supports students in any academic discipline who are doing research that pertains to Black Studies, with recognition for engaged scholarship that promotes social justice and transformative education. The award continues to be offered annually.
Kennedy immersed herself in Santa Barbara community activism and development, participating in and creating several organizations, which significantly overlapped with her work at UCSB. Rolle was often at her side during these projects, referring to herself as Kennedy's "right hand." She urged recognition of the Martin Luther King Jr. holiday, and with the help of Rolle and other committee members, organized a Santa Barbara-wide celebration for its very first iteration. 
Kennedy gave the initial approval for what would become the Santa Barbara Afro-American Oral History Project, an initiative on which Rolle and other community members continue to build, and which is kept at the UCSB Library.
Kennedy also worked with the Santa Barbara Building Bridges Coalition to create collaborative community projects, and received both the Santa Barbara Independent's Local Hero Award and the Santa Barbara News-Press' Lifetime Achievement Award. She was also a member of the National Association for the Advancement of Colored People (NAACP). 
"In her role as an NAACP member, when there was an issue that came up in the city, Shirley was the one who wrote the letter, Shirley was the one who went down to speak at the city council meeting," Rolle explained. "She became the spokesperson for the point of view that represented the Black community."
One of her most noteworthy projects included bringing the Henrietta Marie slave ship to the Karpeles Manuscript Library in downtown Santa Barbara in 2002. The Henrietta Marie is the only slave ship wreckage to have ever been recovered.
CEMA Curator Güereña, who played a large role in acquiring Kennedy's papers, described the exhibit as "an immersive exhibition experienced by thousands of students and members of the community."
"I know that this project was one of the highlights of Shirley's career," he comments.
The archives surrounding her exceptional life of education and activism are currently being processed at the UCSB Library, but it was no small task to move them there.
Kennedy first contacted Güereña in 2001 with interest in donating her papers to the Library. Güereña recalls that the transfer experienced many obstacles, the most difficult and heartbreaking being Kennedy's untimely death in 2003. Her archives were afterward placed in storage, and the transfer remained in limbo for over a decade.
Closer to 2018, the push to rehouse her papers was rejuvenated through the efforts of Kennedy's family, Rolle, and Black Studies Faculty Emeritus Dr. Claudine Michel.
"Shirley Kennedy embodied everything that was and is near and dear to all of us," Güereña stated during a memorial service in 2018 to honor Dr. Kennedy and her archive. "She was an educator, social justice activist, a community cornerstone for civil rights, and an ambassador to the world for human dignity."
"She was a powerhouse," Rolle claimed definitively. "If there was ever anybody who would be considered larger than life, it would be Shirley Kennedy."
The Shirley Kennedy Papers are still in the midst of being processed.  In addition to the Kennedy/Graves Award in the Department of Black Studies, the CBSR also established an annual lecture in her name after her death in 2003, and produced a brief documentary of Dr. Kennedy's life, titled It Was All of Us: Shirley Kennedy, the Life of an Activist.