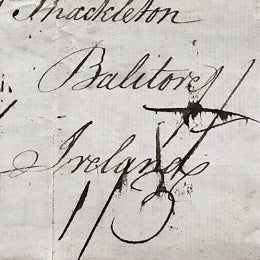 Research by students at three separate universities on a collection in the UC Santa Barbara Library that hasn't been studied extensively since the 1970s is gaining attention - and funds - from several prestigious institutions.
The Ballitore Project is a collaboration between UCSB, California State University, Northridge, and Howard University. The team uses computational techniques to investigate the content of the Ballitore Collection, an archive of more than 2,500 documents from an 18th century Quaker community in Ballitore, Ireland. The project is uncovering insights into the intersections of gender, race, and religion during this period.
Recently, the Ballitore Project earned a Digital Extension Grant Award from the American Council of Learned Societies. Earlier this year, the project received a Humanities Initiatives at Hispanic-Serving Institutions grant from the National Endowment for the Humanities. The project is also funded through the UC-HBCU Initiative, which encourages UC faculty to actively engage in collaboration and cooperation with faculty and students at Historically Black Colleges and Universities (HBCUs).
"Having students and faculty from three very different institutions working together makes for a great blend of all of our strengths and perspectives," said Rachael Scarborough King, UCSB English Professor who is the Ballitore Project Director and Principal Investigator. "Collaborative work is not common in the humanities, but is really powerful."
Moreover, she said the diverse research team is helping resist racist structures that have been incorporated into historically white institutions as well as raise questions about structural hierarchies that are implicit in the collection's contents.
The Ballitore Collection, housed in UCSB Library's Special Research Collections (SRC), features notebooks, journals, dream accounts, and correspondence between several families who lived in Ballitore—the only planned and permanent Quaker Settlement in Ireland.
Though Quakers were a small community, King says they were culturally prominent in a lot of ways in the 18th century, particularly for their support of the abolition of slavery and the slave trade. Despite this stance, the research team is finding that they do not talk about abolition much in the correspondence, nor are there any texts written by Black people.
"That tells us something about how everyday Quakers were relating to the question of abolitionism," said King.
Additionally, Quakers did not have a church hierarchy (no priests or pastors), and women were allowed to preach to the same extent that men could. Part of the team's research is finding out how egalitarian this was in practice. 
King says that so far, they've found lots of references in the collection to women preaching and being praised for it. She also says the archive contains a high level of detail related to women's health, particularly pregnancy, childbirth, and breastfeeding. 
"The big data approach allows us to say specifically how much they talk about certain topics," said King. "[It] can allow us to specify which topics are important to them."
The Ballitore Project research has been going on since 2017, with the first phase shedding light on the topics within the archive. Now, they are working with UCSB Library to digitize the collection, transcribe it, and do a computational analysis on key words as well as map the network of correspondence between people in the letters. 
"It's a great opportunity for our students to interact with materials that they don't usually get to work with," said King. 
Despite having to go virtual during the pandemic lockdown, the high-quality digitized images have allowed the students to continue their research. 
King hopes that by next summer the whole collection will be transcribed and they can start to work on publications.