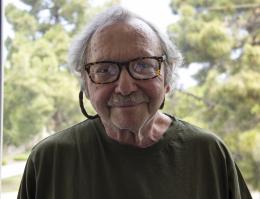 Allen Cohen is one for the books … and the paintings; and the poems; and the films; and the plays; and the opera, jazz and classical songs. And the steps.
A peek into the bag he was carrying for an interview at the UCSB Library revealed his multitude of interests. It contained copies of The New Yorker and the New York Review of Books, along with a handwritten list of books he was searching for at the Library (including one about movie actress Katharine Hepburn); a brochure with activities and performances he wanted to attend for Music Academy of the West's summer program; and an iPod he uses as a pedometer. "My goal is 10,000 steps a day," he said.
Allen, a retired UCSB librarian and Santa Barbara resident who stays fit as a retiree, is also an active member of Santa Barbara's literary and arts scene. He avidly reads, borrows, and collects books; attends concerts and plays; takes classes on chess, Shakespeare, poetry, and short stories; participates in book and poetry clubs at the local public library; admires and collects art (with a focus on student work); and donates generously to the social and cultural activities he cherishes. He's also a firm believer in economic and social justice.
The arts and culture, Allen said, "are a significant reason for us to go on living."
A steadfast supporter of the UCSB Library, he served on the board of the former UCSB Friends of the Library, and makes a monthly donation to the Library to support the Art & Architecture Collection and Special Research Collections. For UCSB's first-ever Give Day in April, Allen donated $25,000 to the Library to acquire an archive of a major small press in Santa Barbara.
"I have a deep feeling for libraries," Allen said. "They've been a major part of my life."
Santa Barbara, despite its small size, "is so rich culturally," Allen said. "I'm on cultural overload here, and that's saying a lot, because I'm from New York City."
Allen grew up in Brooklyn, where early on his love of classical music and libraries collided: After hearing Verdi's Requiem for the first time on a New York classical radio station, he ran to a subway station and headed for the Brooklyn Library to check out a 78 record of the piece.
While earning a degree in literature at the City College of New York, he worked as a student assistant in the school's science and engineering library. After graduating, he worked in a post office, traveled via bike through Europe, then returned to New York City for a job in the Welfare Department.
When he learned "there was such a thing as a master's degree in library science," Allen said, he earned one at the Pratt Institute, and enjoyed a wealth of job possibilities when he graduated. He chose the New York Public Library, where he joined the serials cataloging department, and met his first wife, Hinda. Allen then moved around, working in the catalog department at various academic libraries — John Jay College, Brooklyn Community College, and Pennsylvania State University — and at the Free Library of Philadelphia. He and Hinda moved to California in 1980 when he accepted a job as the Head of Cataloging at the UCSB Library, where he also was in charge of collection development for film.
Despite strong ties to the East Coast, when Allen took an early retirement from UCSB in 1992, he and Hinda decided to stay in Santa Barbara, returning a few times each year to New York City to enjoy music, theater, art, and Chinese food. Hinda died in 2011; they were married for 40 years. A few years later Allen married his second wife, Judith, who died after they had been married only 1 ½ years.
Allen is also an author who spent 10 years researching and co-writing two nonfiction books. With Harry Lawton, in 1997 he wrote John Huston: A Guide to References and Resources (G.K. Hall), about the film director-actor-writer. In 2003, he and Ronald Filippelli published Times of Sorrow and Hope: Documenting Everyday Life in Pennsylvania During the Depression and World War II (Penn State University Press), which features 150 black-and-white images by photographers who worked for the Farm Security Administration (FSA), including Marjory Collins, Jack Delano, Sheldon Dick, Walker Evans, Dorothea Lange, Ben Shahn, and Marion Post Wolcott.
The UCSB Library has copies of both books in its collections.
Allen is not opposed to digital technology — during his tenure at UCSB, he led efforts to move cataloging from traditional cards to a modern computerized system. But he still appreciates the power of a bound printed work. "As an author, when you hold the effects of everything you have done in your hand, you really feel that you've made a contribution to the world of literature and research," he said.
When his wife Hinda passed away, Allen said, he wanted to honor their literary lives, so he included a passage, with permission, from poet Michael Hannon's "The Good Marriage" on her memorial tablet at a Santa Barbara cemetery. The poem is also in broadside format by two California book artists, framed and hanging in several different rooms of his art- and book-filled home:
Like standing on a bridge at midnight
and counting the stars-
everything multiplied by two
Dawn comes and you're still counting