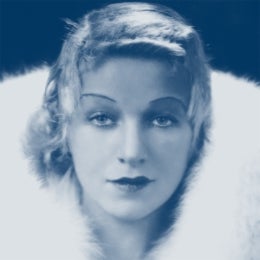 Gitta Alpar's life story played out like a sweeping biopic: Born Regina Klopfer in 1903 in Budapest, Hungary, Alpar's coloratura soprano talent was realized at an early age. By the age of 25, she had become one of the most beloved opera stars of her time. Alpar was the lead in classic opera productions in major European cities to adoring crowds of thousands and later starred in films and on stage.
In 1931, Alpar married German film star Gustav Froehlich but the marriage was dissolved just years later because she was Jewish (and Gustav was not on the right side of history). Her operatic renown continued to grow and, in 1937, Alpar was featured in a coronation revue celebrating King George VI. Eventually, she was forced to flee central Europe for England and then Argentina, performing a series of concerts in Buenos Aires before finally landing in America in 1938 with her young daughter, Julika (Julie), penniless except for a large diamond ring on her finger. 
Interested in developing her film career, Alpar moved to Los Angeles, where she reconnected with and eventually married Niels Wessel Bagge, a friend from Denmark who happened to be a dancer, art collector and department store heir. Alpar lived her final years in Palm Springs in the company of famous friends like Frank and Barbara Sinatra, Bob Hope and Walter and Lenore Annenberg. Alpar died in 1991 and is interred in Westwood Memorial Park Cemetery in Los Angeles, next to Marilyn Monroe. 
Alpar's incredible story of fame, heartbreak, and once-in-a-lifetime talent has all of the makings of a cinematic blockbuster, yet to contemporary American audiences, including her own descendants, her accomplishments are largely unknown. That's where the UC Santa Barbara Library Special Research Collections comes in.
In 1987, Gitta Alpar's career was celebrated with the lifetime achievement award of the German Film Award for her contributions to the art form. She traveled to receive the award with her daughter Julie Jenssen and granddaughter Kathy Foley, who knew of her career and past life as an opera singer and film star but didn't know the extent of her fame in Europe. Upon their arrival to the theater, Alpar was surrounded by adoring fans, much to the surprise of Jenssen and Foley.
"I knew my grandmother was a European movie star; I just had no idea how much she was loved and remembered," says Foley. "Until that point, I was unaware that her international renown and reputation had been sustained in Europe for over fifty years."
It was this moment that spurred Jenssen and Foley to consider Alpar's legacy and the future of Alpar's collection, which  is as diverse as her career: it includes various studio and press photographs, intimate family photo albums, a collection of 78 rpm albums, overseas correspondence between Alpar and her European colleagues, as well as archival material belonging to her first and second husbands. The archive also includes unique items like a 1911 invitation to the coronation of King George and Queen Mary.
In the years following Alpar's death in 1991, the two ensured that the various materials amassed over her lifetime were organized and preserved, knowing that eventually they would need to be transferred to an institution.
While a library in Budapest might have been a natural home for the collection of a Hungarian-born singer, they selected UCSB Library as the permanent home for Alpar's materials after being connected to David Seubert, the Library's Performing Arts Curator in the Special Research Collections Department, through a mutual friend and Library donor and collector, Michael (Mike) Miller. Jenssen and Foley were also attracted to the UCSB Library because of its commitment to access and discoverability for its collections.
"The UCSB Library was highly recommended to us by Mike, who has a vested interest in opera history," said Jenssen. "After meeting with David and seeing his enthusiasm for the research potential of the collection, we knew that it would be the perfect home for my mother's materials."
UCSB Library's Performing Arts Collection is known for its strength in the personal archives of performers, composers and other notable contributors to the history of the performing arts and recorded sound. The Gitta Alpar Papers were a perfect fit for the collection acquisition: Alpar was a contemporary of other operatic artists, including Lotte Lehmann and Charles Kullman, whose archives are housed in Special Research Collections. The Library also owns a number of rare Alpar recordings from her early career.
"The Gitta Alpar Papers is an incredible addition to our Performing Arts Collection," remarked curator David Seubert. "The personal nature of the collection beautifully represents Alpar's career as an opera and film star and provides a ripe opportunity for research and scholarship. It is exactly the kind of archive that exemplifies the uniqueness of the materials in the Performing Arts Collection."
In addition to the collection donation, Jenssen and Foley plan to create The Gitta Alpar Performing Arts Endowment at UCSB Library in honor of Alpar's contribution to the performing arts and to cement her enduring legacy. The endowment will ensure that the materials are stewarded in perpetuity and made available for future research.
"I think Gitta would be thrilled to know that her remarkable life and career will be preserved at UCSB Library," says Jenssen. "She was a bright star and with this archive, her legacy will continue to shine."