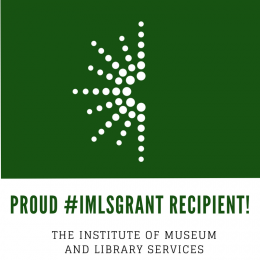 The Institute of Museum and Library Services (IMLS) has awarded UCSB Library a $100,000 National Leadership Grant for "Always Already Computational: Library Collections as Data." The funds will be used for a series of meetings to develop strategies around library collections that support computationally-driven research and teaching. Of 85 submitted projects, only 15 were selected nationally for funding.
Thomas Padilla, UCSB Library's Humanities Data Curator, is the principal investigator (PI). His co-PI is Laurie Allen (University of Pennsylvania). Project investigators include Stewart Varner (University of Pennsylvania), Sarah Potvin (Texas A&M), and Elizabeth Russey Roke (Emory University).
"I am so excited to work with the project team and the wider cultural heritage community to move forward collections as data practice," said Padilla. "The project team is deeply invested in figuring out ways we can approach development of digital collections that make them more readily amenable to computational use."
With the award, UCSB Library will host an initial forum, to be followed by continued national conversations across a range of disciplinary and professional communities. "Along the way we aim to develop guidance for institutions large and small interested in exposing new facets of use across their collections," continued Padilla.
"This work is an example of the leadership role research university libraries play in advancing the creation and discovery of knowledge," said Denise Stephens, University Librarian. "It promises to have important implications for how UCSB Library, and libraries in general, support and enable research in the years to come."