Until the start of Fall Quarter 2017, maps and aerial photographs are available by appointment only.  Please request maps and aerial photographs via the Library Catalog, email (milrefdesk [at] library [dot] ucsb [dot] edu), or phone (805-893-2779). Please see this news item for detailed information. 
About MIL
Located in the UCSB Library, the Map & Imagery Laboratory (MIL) contains maps, aerial photographs and other types of remote sensing data, and GIS data from around the globe. It is the largest such collection in any academic library. MIL serves the academic and research needs of the University of California, the state university system, business, industry, federal and state government, and other domestic and foreign educational institutions.
Since its opening in 1979, MIL has become a primary information source for regional, national and global academic research and has hosted many symposia and seminars. Previous major projects have advanced the interdisciplinary use of spatial data and provided technologies for integrating diverse information formats.
To make arrangements for specialized services, air photo research, instruction, tours or workshops please contact the Map & Imagery Lab at (805) 893-2779 or milrefdesk [at] library [dot] ucsb [dot] edu.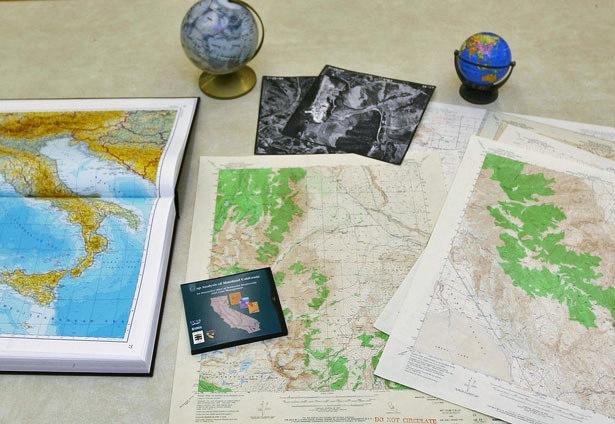 Digital Preservation (NGDA)
Concerned that millions of nationally important digital information resources are in danger of being lost or corrupted, the Library of Congress has formed The National Digital Information Infrastructure and Preservation Program (NDIIPP). As partners in the project the university libraries of UCSB and Stanford are leading the formation of the National Geospatial Digital Archive (NGDA), a collecting network for the archiving of geospatial images and data.
MIL's portion of the NGDA is complete, and we are currently designing methods to provide public access to the archive and to add additional data to the archive.
Alexandria Digital Library
Starting in the 1990s, the Alexandria Digital Library offered some of the first online access to collections of geographically referenced materials. The library, headquartered at the University of California, Santa Barbara, was created through a series of grants to the UCSB Library's Map & Imagery Lab and other UCSB departments. All of the data that was served out from ADL systems continues to be accessible in the Interdisciplinary Research Collaboratory.