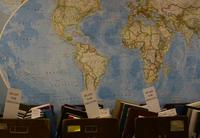 The UCSB Library actively collects documents published by many international governmental organizations such as the United Nations, World Bank, International Monetary Fund, Organisation for Economic Co-operation and Development, World Health Organization, and the European Communities.  International publications can be located through the library catalog and subject guides.  United Nations Documents are not individually cataloged, but are housed in a microfiche collection in the Government Information Center.  Many recent publications are available online.
We also collect major statistical publications from selected foreign countries.  These can be located by using the library catalog.  With the exception of microform documents, foreign government documents are housed in the main library collection.  
Documents from international non-governmental organizations are cataloged and housed in the main library, or are available online.