The PAI photography came to the UCSB Library in 1986 as part of a gift from the Teledyne Foundation. This collection consists of several hundred flights, primarily of areas in southern California, from 1948 to 1967. Many of the flights are large scale (greater than 1:10,000) and cover small areas. The UCSB Library holds negative transparencies on roll film and paper prints of the 9 x 9 inch, black and white PAI photography. The flight IDs are filed by a roll number, and most end with the letter "V" (e.g. PAI-150V). More than one flight/roll number may be represented on a PAI index, and there can be more than one index and flight record with a specific roll number (e.g. PAI-203V, PAI-203V-1, PAI-203V-2, etc.). In our catalog, some PAI flights are grouped together based on a specific area and year, e.g. PAI-LA-Basin-62.
PAI also includes a selection of 5300 color and black & white 4x5" negatives of oblique aerial images, ground-level photographs of construction projects, and special event photography.  996 of these images were digitized as part of a grant project funded by the John Randolph Haynes and Dora Haynes Foundation.  A separate finding aid has been developed for this collection.  A small sample of these images is presented below.
Return to Significant Holdings
Sample Images
These images are representative of the 4x5" PAI negative collection.  The photographs listed in our AP Flights catalog are all vertical survey photographs.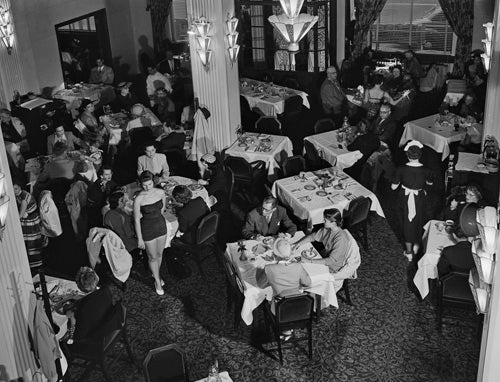 Fashion show - Thelma Hastings models Ind. 1952 (PAI-C-580)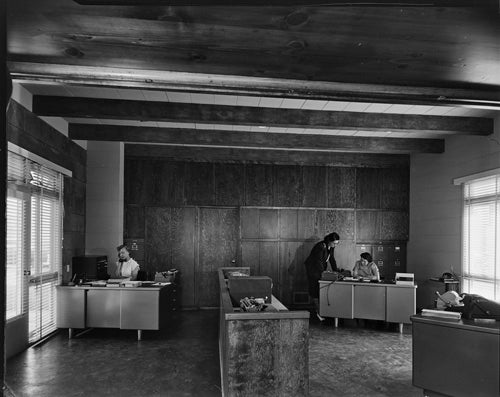 Carbon Dubbs plant Stanton 7/23/1952 (PAI-C-648)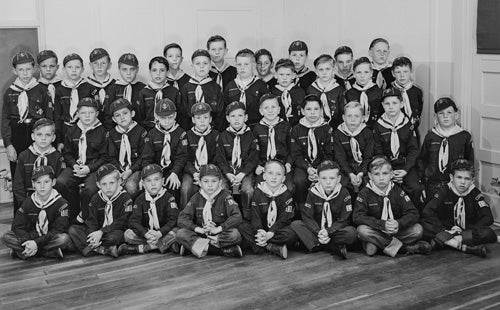 Cub Scout group shots. 2/5/1953 (PAI-C-782)
The collection contains a number of photographs of the offices and staff of PAI.  Below, a staged group of employees pours over a mosaic index under construction.  These indexes would be photographed and then be reproduced as finding aids.  We continue to use them today to determine the locations of vertical photographs on the face of the earth.  The contact prints used to construct the mosaics are created from 9" wide film loaded into cameras of the the larger type in the bottom photograph.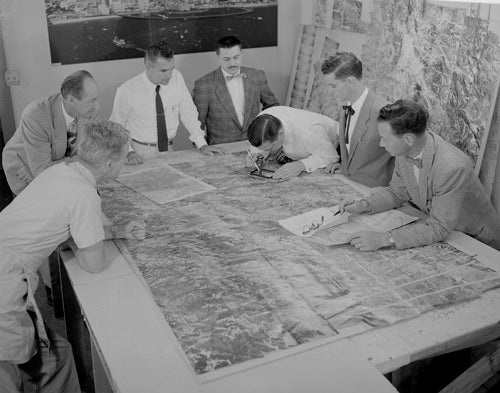 PAI Crew Studio. 10/14/53 (PAI-C-862)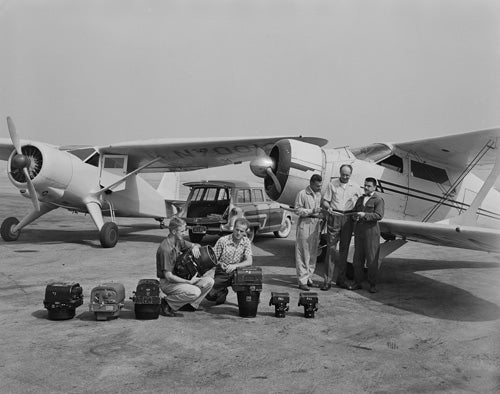 Planes at Long Beach Airport with cameras. 10/16/53. (PAI-C-870)