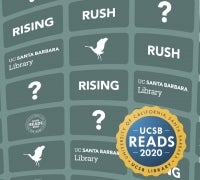 UCSB Reads Game Night: A Jeopardy-style Discussion of Rising
Event
Location:
Instruction & Training 1312
The UCSB Library and UCSB Sustainability invites you to a Jeopardy-style discussion based on Rising: Dispatches from the New American Shore by Elizabeth Rush. Rising is UCSB Reads 2020 book selection and discusses the impacts of sea level rise on coastal wetlands and our country's most vulnerable communities. We will navigate the topics of climate justice, governmental response, and human intervention in fragile ecosystems in a fun and interactive manner while also diving deep into some of the issues present in our world today. Join us and sign up here: https://tinyurl.com/ucsbjeopardy!
This event is co-hosted by Greeks Go Green, UCSB Sustainability and the UCSB Library. Snacks will be provided.