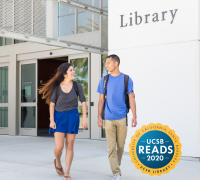 Event
Location:
Instruction & Training 1312
This event was cancelled due to the Covid-19 campus closure. 
Join the UCSB Library and Health & Wellness for an interactive afternoon of speed friending (like speed dating, but for friendships). Participants will address themes related to the 2020 UCSB Reads selection Rising: Dispatches from the New American Shore by Elizabeth Rush. Themes include connection to place, relocation and change, climate anxiety, and more. 
Light refreshments will be served.  Event is free and open to all students. If you would like to pick up a free copy of the UCSB Reads book in advance, please contact UCSBReads@library.ucsb.edu. 
This event is co-sponsored with the UCSB Residential Housing Association and UCSB Health & Wellness.