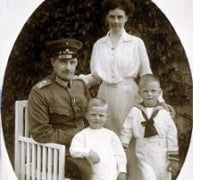 Wed, 04/14/2004 - 8:00am

to

Mon, 06/14/2004 - 5:00pm
Exhibition
Location:
Special Research Collections
Special Collections recently has acquired a number of interesting printed and manuscript materials, some of which are on display in our lobby through mid June. Highlights include:
Claus Nissen. Kräuterbücher aus fünf jahrhunderten: 50 Originalblätter aus deutschen, französischen, niderländischen, englischen, italienischen und Schweizer Kräuterbüchern. Mit historischer Einleitung und Bibliographie. München, Wölfle, 1956. Original plates from herbals, many hand-colored, published from 1485 to 1858-63.
Arthur and Kit Knight Beat Collection, ca. 1971-1984. A collection of manuscript material, photographs, magazines, booklets, and ephemera relating to the Beats and Beat history. Many of the items in the collection are publications issued and edited by Arthur and Kit Knight. (Mss 205).
Leaf Book. Containing 250-300 examples of printing from the mid-fifteenth century to the late nineteenth century. Included is a leaf from a Shakespeare First Folio.
Frank Gruenthal Collection, ca. 1914-1918. German diaries and photograph albums, some from World War I, of a German Jewish ancestor of Gruenthal. (Bernath Mss 95).
Santa Barbara Picture Postcards. Picture postcards, black/white and color, of various Santa Barbara area scenes, acquired over the years from various sources. Includes Santa Barbara and Montecito residences and gardens, harbor and beaches, foothills, bird's eye views, Santa Barbara Mission, and former Riviera campus of Santa Barbara College (now UC Santa Barbara). (SBHC Mss 36).
Slavery Collection of U.S. Government Documents, 1817-1865. 126 chronologically arranged printed United States government documents dealing with slavery issues. Included are memorials, messages, reports, resolutions, many being numbered miscellaneous documents of the various sessions of the Congress, Senate and House of Representatives. Many are from state legislatures, North and South. Some are from the President of the United States. Several pertain to the American Colonization Society. (Wyles Mss 106).
Isabel Field Strong Scrapbook, ca. 1926-1930. Scrapbook of Isobel Field Strong, daughter of Fanny Stevenson and stepdaughter of Robert Louis Stevenson. Includes photographs of Carpinteria area, and some of Serena, the Field home. (SBHC Mss 64).
Image caption: Family photo, from Frank Gruenthal Collection