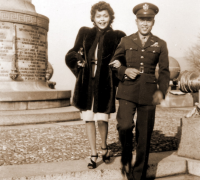 Fri, 10/01/2021 - 8:00am

to

Mon, 06/20/2022 - 5:00pm
Exhibition
Location:
1st Floor, Ocean Side
UCSB Library is pleased to present "Postcards from Salinas," a collection of restored photographs of Filipinas/os in the Salinas Valley, 1920-1940. Each of these photographic panels tells a separate story of these pre-1941 Filipinas/os who eventually became Filipina/o Americans.
All photographs were taken by Narciso Bulosan Caliva.  Caliva was born in the Philippines in 1902, left home as a boy of seventeen to work in the pineapple fields in Hawaii, and eventually moved to the Salinas Valley where he opened a photography studio. 
The postcard photograph was the means through which the Filipino men tried to convey their success in America. On one side is a picture of them in beautiful clothes and well groomed. They'd order a dozen of the photographs to send to their families in the Philippines. They wrote of positive things, often never mentioning the hardships they were going through. As Tomas Lasitonia, a Filipino who came to the U.S. in the early 1920s and eventually made the Salinas Valley his home said, "if you send a letter home, they expect you to put some money inside." A postcard was a simple way to keep in touch without sending money home.
"Postcards from Salinas" is curated by Alex Fabros Sandoval, Jr. and was previously part of a larger exhibition organized by the National Steinbeck Center and the Asian Cultural Experience at the National Steinbeck Center in Salinas, California. Fabros, a retired historian of Asian American Studies at San Francisco State University, received an MA from UCSB's Department of History.  He is the 3rd generation of his family to have resided in Salinas, where his grandfather was a local farm labor contractor, and his father was one of the first Filipinos to graduate from Salinas Community College. 
Special thanks to UCSB librarian gary colmenar for his efforts to bring the exhibition to UCSB.  For additional resources related to the exhibition, please visit gary's
library guide here
.