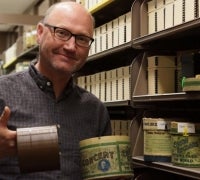 Panel Discussion with LA Times writer Randall Roberts, collectors John Levin and Michael Khanchalian & UCSB Library Performing Arts Curator David Seubert
Event
Location:
Online
Audio cylinders contain some of the earliest recordings made and heard by the public over a century ago. The UCSB Library has long played a leadership role in preserving and making these recordings accessible. Less well known is the important role of private collectors in these preservation efforts. 
Los Angeles Times writer Randall Roberts explored the efforts to find and preserve these recordings in a series of articles in the November 14th LA Times. The UCSB Library invites you to a virtual panel discussion with the individuals behind these preservation efforts. These 'guardians of early recordings' will discuss how the brown-wax audio cylinder era laid the foundation for LA's music scene and provide insight into UCSB's collection of thousands of cylinders acquired from around the world and play the oldest audio recorded in Southern California. 
Our featured panelists include collectors John Levin and Michael Khanchalian, Los Angeles Times writer Randall Roberts, and UCSB's Performing Arts Curator, David Seubert.
UCSB's University Librarian, Kristin Antelman, will moderate the discussion.
Please contact Heather Silva at heathersilva@ucsb.edu for any questions.