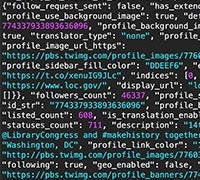 Introduction to Twitter Data
Event
Location:
Interdisciplinary Research Collaboratory
9:00AM to noon
Looking for a hands-on start to collecting, exploring, and understanding Twitter data? The Collaboratory is here to help!
Shari Laster, Data Services Librarian, will lead a three-hour, hands-on workshop introducing attendees to twarc, an open source Python tool for collecting Twitter data in JSON format, and JQ, a command-line tool for analyzing JSON. The group will also discuss the Documenting the Now project and its implications for the ethical collection and use of Twitter data.
No prior experience needed. Register here: https://goo.gl/bG655g
For more information on the Collaboratory's support for research with Twitter data, check out our Digital Scholarship blog post.
Questions? collaboratory [at] library [dot] ucsb [dot] edu