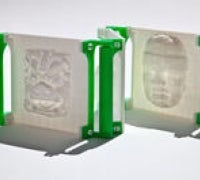 Sat, 09/20/2014 - 8:00am

to

Fri, 01/30/2015 - 5:00pm
Exhibition
Location:
Art & Architecture Collection
First 3D Printed Artists' Book
Created by: Tom Burtonwood
Artist Statement
"I have been thinking for some time how it would be nice to produce a 3D printed book of textures and reliefs. To publish and distribute all the wonderful architectural patterning and decoration we enjoy here in Chicago and beyond. This is the prototype for that idea.
The subject matter for this book is derived from 3D scans made of sculptures and reliefs, found at The Art Institute of Chicago and The Metropolitan Museum of Art in New York. The scans were all produced using a regular DSLR camera and a software package called 123D Catch. By taking multiple digital photographs of a subject – the user is able to create a lifelike 3D scan of an object, person or architectural feature. 123D Catch is free to use and distributed by software company Autodesk.
I have made the book available to "print on demand" via Makerbot's website Thingiverse. This website is a place where makers, artists and designers share their creations with each other. Visitors to Thingiverse can download a zip archive of all the files necessary to make this book. They can remix, reuse and even make these files commercially available as long as they share the files in the same fashion and attribute me as the maker of this work.
The "front cover" explains how these reliefs were created, and has the Creative Commons License for the work. The "back cover" is a list of works. The six scans I used also are available individually on Thingiverse – in fact this is where I sourced them from. I chose six 3D scans from Thingiverse, three of my own and one each from Jason Bakutis / The Met, Pretty Small Things, and A Minimal Studio."
Orihon project on Thingiverse
Orihon is held in the Library's Department of Special Collections(call number:Printers Collection Z239.B57 .B87 2014) and is part of a significant and varied artists' book collection.  Please click here for an article on Orihon and the UCSB Library's collection of artists' books.
Artists' Books – Defined
"Artists' books take every possible form, participate in every possible convention of book making, every possible "ism" of mainstream art and literature, every possible mode of production, every shape, every degree of ephemerality or archival durability.
There are no specific criteria for defining what an artist's book is, but there are many criteria for defining what it is not, or what it partakes of, or what it distinguishes itself from...
Artists' books are a unique genre, ultimately a genre which is as much about itself, its own forms and traditions, as any other art form or activity. But it is a genre as little bound by constraints of medium or form... It's an area which needs description, investigation, and critical attention before its specificity will emerge."
Drucker, Johanna. The Century of Artists' Books. New York City: Granary Books, c2004.