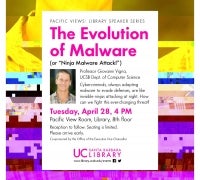 The Evolution of Malware (or "Ninja Malware Attack!")
Event
Location:
Pacific View Room
Giovanni Vigna, UCSB Department of Computer Science
April 28, 2015, 4pm
Malware is in continuous evolution. As new countermeasures are deployed, cybercriminals adapt and create malware samples that can evade these defenses, like invisible ninjas attacking at night.
This talk describes the evolution of malware, and describes research in fighting this ever-changing threat, focusing in particular on the detection of evasive behavior.