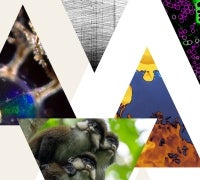 Art of Science, 2023
Wed, 08/02/2023 - 8:00am

to

Tue, 12/19/2023 - 5:00pm
Exhibition
Location:
Mountain Gallery
Artists, some say, are more right-brained, prone to feeling and imagination. Scientists, meanwhile, are more left-brained, valuing order and logic.
Leonardo da Vinci shatters that theory.
The left and right sides of our brains co-exist in marvelous synergistic ways. The eighth annual Art of Science competition proves that both halves are being nourished simultaneously at UCSB.
Art of Science challenges UCSB researchers —undergraduates, graduate students, and post-docs — to express the joy of scientific discovery through aesthetics. The images on exhibit here were selected by a panel of judges, and by popular vote, based on their artistic excellence as well as scientific or technical interest.
UCSB Library is proud to showcase these eye-opening and defining intersections of art and science. On display are winning entries that include 1st, 2nd, and 3rd place, five honorable mentions, "People's Choice," "Best Caption," and the winner of a new competition category, "Best Data Visualization," developed with the Library's Research Data Services Department.
The Art of Science is a collaboration between the Schuller Lab, the Center for Science and Engineering Partnerships, the California Nanosystems Institute, College of Creative Studies, Santa Barbara Museum of Art, and UCSB Library.