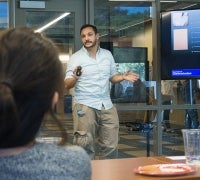 April Lunch & Learn: Neurons & Nepal
Fri, 04/15/2022 -

12:00pm

to

1:15pm
Event
Location:
Online
Join us for Lunch & Learn, where you'll have the chance to socialize with other grad students and hear talks by students in Molecular, Cellular, and Developmental Biology & Anthropology. Lunch & Learn is co-sponsored by the Graduate Division, the Graduate Student Association, and the UCSB Library.
While we won't be able to share pizza together in person, all attendees will be entered into a raffle to win a $15 Target gift card.
April 15, 12-1:15pm
Zoom*
*RSVP here to receive the Zoom link*
Presentations: 
STEM Talk: Evading Death: Investigating Neuron Survival in Neurodegeneration
Morgan Mutch, Molecular, Cellular, and Developmental Biology 
Programmed cell death is critical for healthy tissue development and maintenance, but excessive death of neurons leads to neurodegenerative diseases like Alzheimer's. Our lab characterized a process named 'anastasis,' where cells start dying but recover at the brink of death. I use a fly model to study how anastasis affects neurodegeneration, and propose it may function to protect neurons from death. Understanding reversibility of neuron death could lead to insight in neurodegenerative disease pathogenesis and potential therapies.  
SHEF Talk: Benefits and Consequences of Arranged Marriage in Nepal
Elizabeth Agey, Anthropology
This study seeks to understand the reasons that some people have arranged marriages while others choose their own spouses. My work, based on fieldwork in Nepal, examines preferences of unmarried people and their parents to find sources of agreement/disagreement and analyzes the financial and social consequences of choosing different types of marriages.