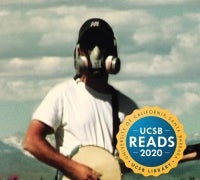 Fri, 01/31/2020 -

6:00pm

to

8:00pm
Event
Location:
Instruction & Training 1312
Join UCSB CALPIRG and UCSB Library for a screening of the Oscar-nominated documentary 'Gasland." A panel discussion following the screening will discuss the effects of fracking as it relates to public health, the environment, and communities. The panel includes: Sharon Tettegah (Director, Center for Black Studies Research), Justin T. Hosbey (Center for Black Studies Research), Gerardo Aldana (Chicano/a Studies), Ranjit Deshmukh (Environmental Studies) and Helene Gardner (Environmental Studies).
Free pizza will be served. 
Fracking, or hydraulic fracturing, is the process of injecting liquid under high pressure into rocks to create cracks. These cracks, 8000 feet into the ground, allows gas and oil to seep into the well created by the process. Fracking has been linked to the stimulation of earthquakes, health concerns related to the fluid injected and negative environmental impacts of escaping gases during the process.
UCSB CALPIRG is a student-run activism group here at UCSB whose primary interests are civic engagement, environmental protection, and making college more affordable. One of CALPIRG's four current campaigns is to ban fracking in the state of California.
This event is co-sponsored with UCSB Library as part of  UCSB Reads 2020.